I love giving handmade gifts at Christmas (and Birthdays). But the reality is that I don't always get around to it.
That last minute sinking feeling, where you meant to get someone a gift and forgot, is probably more common than most of us would care to admit.
Then there's the situation where you know you want to crochet a present for someone but don't have much time… Especially during the festive period.
Well this post attempts to dig you out of both those holes, with 9 ideas for modern crochet gifts that you can whip up in an evening (or less!)! And I'm talking about presents that people will actually use.
I'm big on things being used, not sitting in a draw!
1. Christmas Decorations
Seeing as the festive season is coming, I wanted to start with the idea of Crochet Christmas decorations as gifts. Handmade festive ornaments make such wonderful keepsake gifts which will be used year after year!
My Festive Crochet Friends ornament pattern includes 5 characters and I couldn't resist adding them in!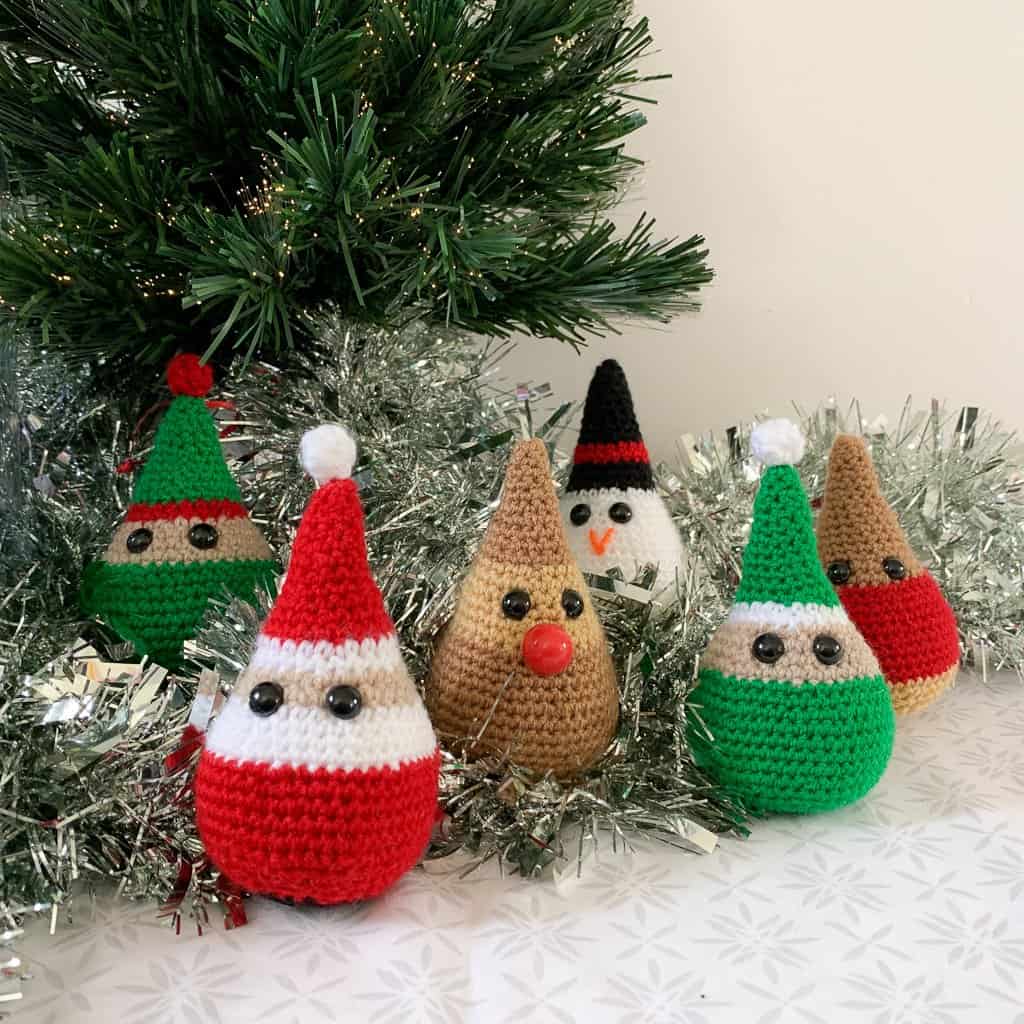 This post contains affiliate links. This means if you click a link to a product and go on to make a purchase, I receive a small percentage of the sale at no extra cost to you. You can read my full affiliate disclosure here
Any small seasonal home decor item works really well as a gift. Pick a pattern which is simple and elegant to keep to your timetable!
2. A quick crochet Hat
On to more traditional, and less seasonally specific gifts now! It's a general rule of thumb that applies to all these ideas, but the chunkier the yarn, the quicker your project will work up. The less complex the pattern the quicker they work up too.
There are obviously many hat patterns on the internet, free and paid, but I've used some of my patterns below to give you an idea of the kind of thing that works up fast.
If you want to go quick and chunky, you could try the slouchy Beehive Beanie (pictured).
For super chunky fun, you could give the, Kidult Hat a whirl. For speed speed speed, the Off the Rails Beanie is my quickest super chunky beanie make.
All three of these hats are available in adult sizes for free on this blog.
Because hats are pretty small, they (generally speaking) don't take too long to hook up, so you can still make an aran / worsted weight hat like My Brother's Beanie in an hour or two.
The Studio Bun Hat set offers a range of styles in a more textured stitch pattern, which takes a little longer but still works up in a few hours.
Oh and if you want to get novelty and festive then have a look at the Christmas Hat Collection!
3. A simple crochet ear warmer / headband
These are fantastic quick gifts. They are small so don't take long to make (even in finer yarns), and because they don't need much yarn you can rustle something up from your stash!
I have a couple of ear warmer tutorials which offer different styles – though there are an infinite number available in the internet!
For a generic quick ear warmer, you essentially, pick your fave stitch pattern, yarn and hook and make a long rectangular band a couple of inches shorter than the head circumference, join it to form a loop and you're away!
If you want some help with head circumferences, you can check out my ultimate guide to hat sizing which has all the head measurements you you'll need for any ear warmer!
The twisted headband tutorial shows you how to make a twisted / turban style ear warmer and it works with any stitch pattern and yarn of your choosing. I love versatile patterns.
If you like ribbing, you can follow this tutorial for a ribbed headband (pictured below) which will also work with any yarn and hook and is a great beginners pattern.
4. Crochet Scrunchies
I started making these a few years ago and they are great for using up left over yarn and making quick presents.
Scrunchies and 90s vibes are all over the internet right now so these would make perfect on-trend gifts or stocking fillers.
You can make a super fast scrunchie with most yarns and a simple hair elastic using my Thank Scrunchie It's Friday Video and Picture Tutorial.
5. A worsted or aran weight crochet cowl or snood
The same rules of chunkiness and stitch simplicity apply here as to hats (see also scarves below!).
For a one hour cowl with a difference, check out the Free Chaucer Twist one hour super chunky Cowl, for the beautiful Jasmine stitch have a look at Shifting Sands Snood (this one is a yarn eater and does take a little longer than the one hour cowls but is so worth it!)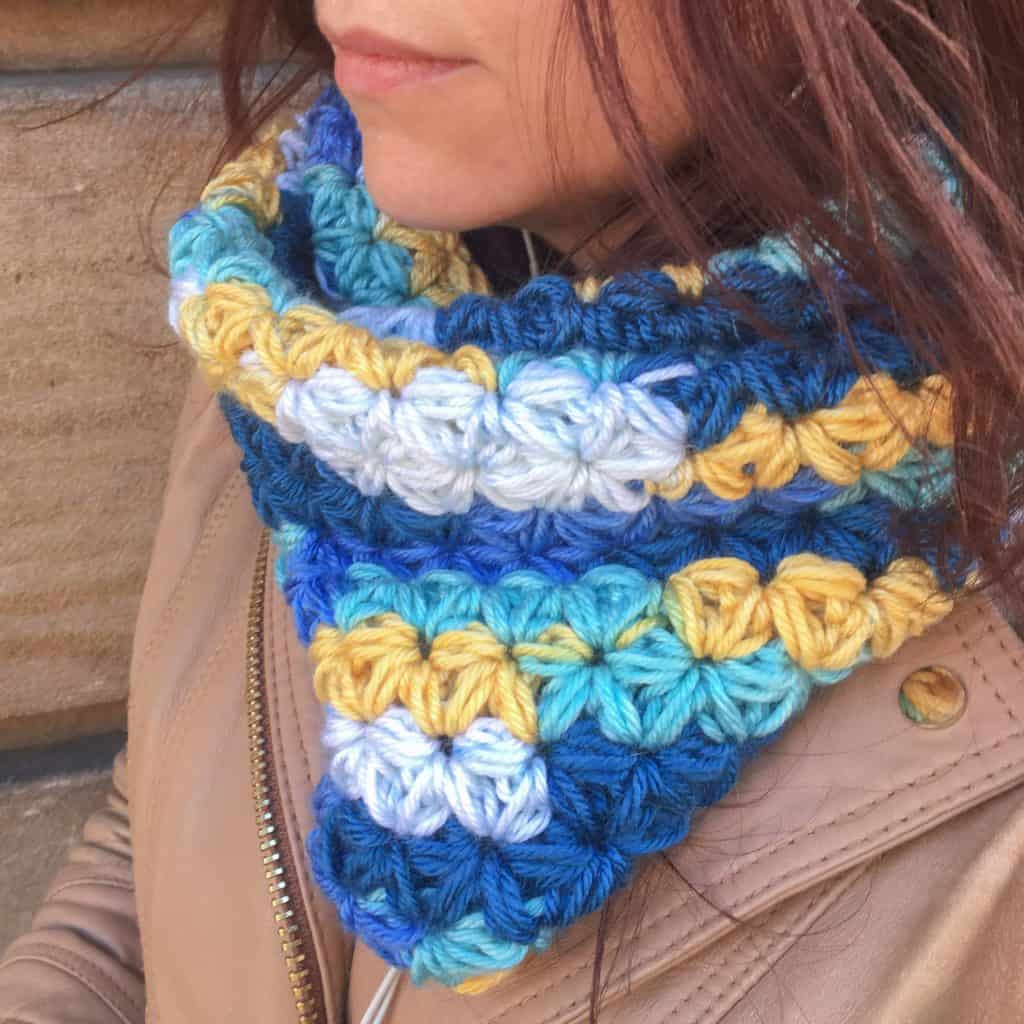 For something a bit different but incredibly warm, have a look at the 3d aran weight one-skein Connected Cowl (these patterns are all free on the blog btw)
Again, there are so many cowl and snood patterns around – these just give you an idea of what can be achieved in an evening of crocheting.
6. Chunky crochet scarf or infinity scarf
Okay, the last of my quick winter gift ideas is a scarf or infinity scarf.
If you want to make scarves quickly then you really do need to go to a chunky or super chunky yarn – if you want them to be long warm ones at least.
The Off the Rails infinity scarf is one of my most popular, timeless free patterns which works up in an hour to an hour and a half.
I have made stacks of these as gifts over the years and they always go down well (you can also shorten it and work as a snood or cowl if you're really pushed for time)
A quick google or Pinterest search of chunky scarves will have you hooking something up pronto.
7. A crochet necklace or jewellery
It has been a while since I made any crochet jewellery but there is so much lovely, modern stuff out there using t-shirt yarn or chunky cotton.
Have you seen the new range of recycled yarns from Paintbox Yarns? The big cotton (which could double as macrame cord) or recycled t-shirt yarn would be awesome for a chunky necklace.
I love this simple crochet choker from Little Bud Creations (she also does some stunning crochet collar patterns so it's worth checking her out if you're not already familiar with her work!).
Because jewellery pieces are so small, you can also use finer yarns but still produce something beautiful in a short window.
A broach or a pair of earrings will work up quickly using threads. I love these simple earrings from I love Knots.
8. A Crochet plant pot holder or small basket
When it comes to crochet baskets I prefer the look of smaller baskets made with chunky yarn worked with a tight tension. This helps them keep their shape and stay looking good beyond the first five minutes!
These waistcoat stitch baskets from All about Ami are just perfect examples of how classy crochet baskets can look.
Plant pots are great because the pots themselves help add a bit of structure.
I love this Chunky Plant Pot Holder free on the Jelly Bean Junction blog. This shows how you can also use softer yarns for plant pot (compared to baskets) because the contents support themselves!
Botanical themes and plants are evergreen (pun intended). I don't know about you, but I love receiving plants as gifts, so this is a great way to personalise the gift of nature!!
If you wanted to get really earthy you could make a basket out of garden twine held double (which is traditionally made from jute) or Rafia.
9. Bags and Purses
If you're sticking with chunky, then bags can work up pretty quickly too. I love the classic Moon Bag from Emily at Make.E. I made one of these at one of her workshops a couple of years back and if you're not busy chatting away then they work up super quickly. All with just one ball of bobbiny cord or about 100m of similar rope yarn like Big cotton or DMC Natura XL. Cotton tends to be best for bags because it will not stretch so much.
You will need a strap for this one although you can crochet one by working slip stitches into a chain (to stop if stretching!).
If you don't want to go chunky with your yarn, then go small with your project and something like a small coin purses can be great little gifts too and work up pretty quickly. This free purse pattern from Yarnspirations looks super versatile.
Scrubbies, dishcloths and pot holders??
Now, you might think that these are a glaring omissions from this list. Whilst pot holders and dishcloths work up super quick and are ever so useful, I've not included any as they don't really meet the treat / keepsake factor that I wanted to focus on for this list…
To me, they're a bit more "Happy Christmas / Birthday, now go cook and clean up!" which isn't quite the aim!!! (Although my Mum would probably love one as she used to make me knit dishcloths for my grandmother when I was a kid – the only thing I can knit!)
I hope you find some useful ideas here – now off you go for a root through your stash to see what works. Your loved one is very lucky!
Don't forget to share your makes on instagram using #HookMeHappy
Happy Hooking
Dx