This page aims to give you an overview of yarn weights and guidance on what hook size you might want to use with your yarn of choice.
Hook Sizes and terminology
Crochet has multiple terms to describe the same thing, but with hook sizes, we outdo ourselves!
There are at least 3 common ways to denote a hook size – a metric millimetre sizing, a US letter (sometimes a number) or a UK number are the most common. That's before we look at Japanese sizes, lace weight hooks and aluminium vs steel hooks too.
Impressive huh!
Personally, I always stick to the metric mm sizing in my patterns. In a lot of modern western patterns you will be likely to just see the metric and or US sizes but there are still a lot of vintage UK patterns floating around so it's useful to be aware of the options.
Crochet Hook Size Conversion Chart
Metric, US, UK/Canada and Japan Crochet Hook Size Terms
I've put together a table below which is a useful reference to help you translate all the different hook sizes. It includes metric and those used in the US, UK / Canada and Japan.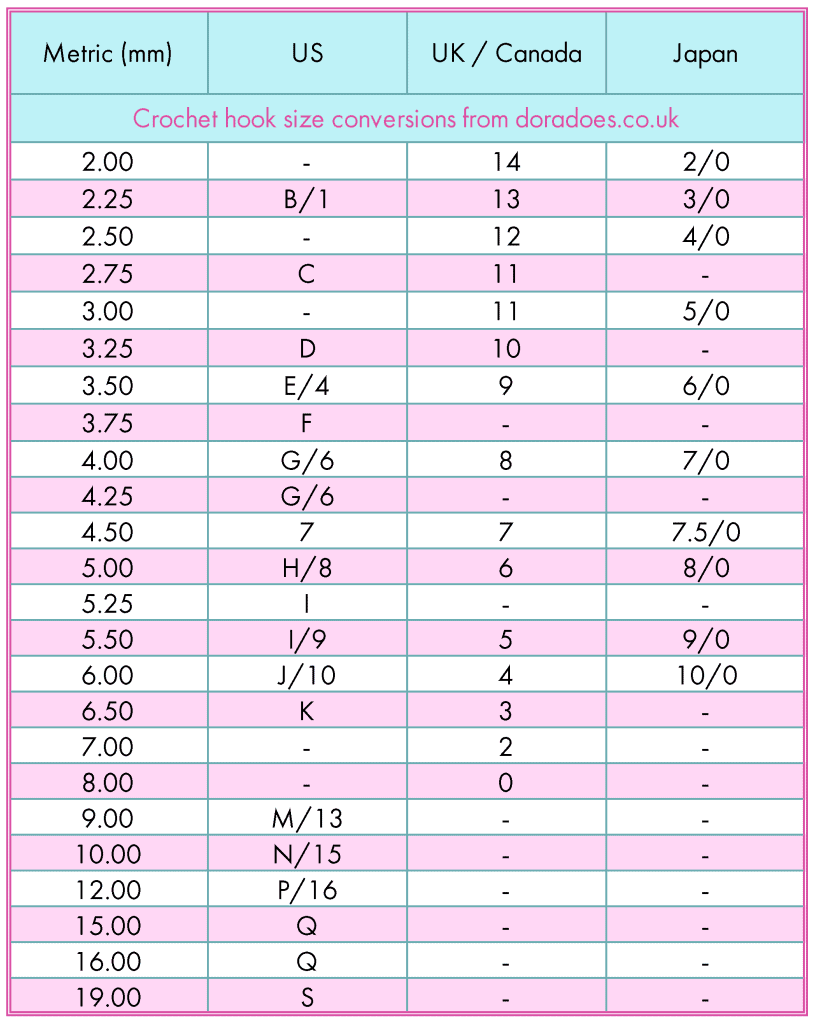 What crochet hook size matches what yarn weight?
Standard information about yarn weights in the US can be found here. It's worth noting though that outside the US, different terms are used for similar yarn weights.
On top of that, weights can vary even within categories, so please use the below as a guide only and remember that meeting gauge is more important than sticking to a particular hook size because a ball band or a pattern told you to!!
You will often see a hook size recommended on the ball band, though sometimes it will only suggest a knitting needle size and ignore us crocheters all together!. Please remember that this is just a recommendation, so don't be beholden to it!
We all crochet with a different tension too which impacts what hook we might want to choose so it's not possible to make this an exact science!
Below is a table with a range of suggested hook sizes for each of the main yarn weights. However, there is no global standard because so much depends on the pattern you are working.
Just as you put thought into choosing the right yarn for your project, choosing the right hook should not be overlooked!
I have created this chart based on my experience and the range of crochet hook sizes I suggest for Light and Medium weight yarns differs from the Yarn Craft Council.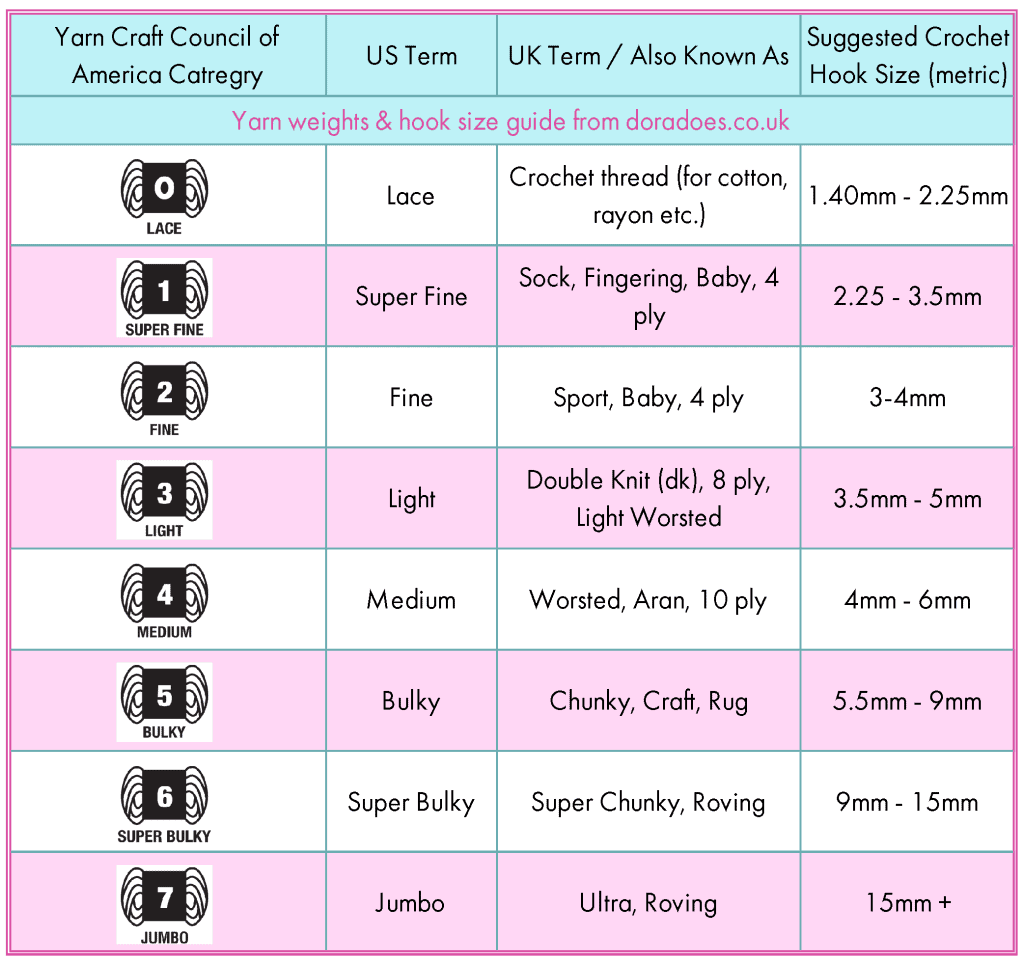 I'm going to add one last comment about hook size here. That is that for crochet garments, I almost always go up a hook size or several sizes to that recommended on the ball band of the yarn I am using. This creates a more drape in the fabric and less bulk. Conversely, for toys or homewares I am more likely to go down a size.
Ultimately, experience will help you determine what size hook works best for you and the pattern you're working, but in the meantime make a gauge swatch!

Back to Charts and Technical Stuff