Introducing my Festive Crochet Friends! A village of 5 simple characterful crochet Christmas decorations to bring some simple joy to your home this holiday season.
We are often so pushed for time around the festive season, so this year, I wanted to create some really easy, quick and modern xmas decoration patterns. These are perfect for decorating your own home or for making as festive gifts for friends and family.
Their teardrop shape means they can be used as tree adornments, by adding a simple hanging loop, placed as ornaments around the home, or as part of a table dressing. (Or all of the above!)
This post contains affiliate links. This means if you click a link to a product and go on to make a purchase, I receive a small percentage of the sale at no extra cost to you. You can read my full affiliate disclosure here. As an Amazon Associate I earn from qualifying purchases.

All of the friends are made using the same basic crochet pattern. The changes in yarn colour and finishing create the different characters. I love that a few simple bands of colour can create identifiable characters!
Below you'll find the pattern for the basic shape, using the colour changes to create the Elf. This includes a photo guide.
The full PDF pattern includes the basic pattern along with a simple chart outlining the colour changes for each character. I have also written the pattern out for each character separately in order to accommodate the way different crocheters prefer to read patterns. The PDF also includes a more extensive photo guide and a section giving tips for crocheting amigurumi.
I hope you'll enjoy these friendly folk.
A crochet elf story
Before I get into the pattern, below is a little video I made telling the story of the Elf who was made to be a Christmas Decoration, but needed to find a village of friends to help.
Pin this video to share the festive joy!
It's not really Christmas with out a story of goodwill, so my message to you…
Find the poeple who lift you up and do happy dances to celebrate your achievements. Be the person who lifts others up. Celebrate their victories. Do the happy dance!
Okay, without further ado… let's get into the free Elf friend pattern!

Pattern Notes
General Notes
Please read the pattern and associated notes through before starting your project
This pattern uses standard US crochet terms (UK equivalents are given in brackets in the abbreviations list)
Numbers at the end of a round indicate the number of stitches in that round and are only given where there is a change
Unless otherwise indicated, stitches should be worked in consecutive stitches
Instructions written after *asterisks should be repeated as indicated
The characters created from this pattern are designed for decorative purposes only and not intended to be used as toys. Please exercise caution when using small parts around children, infants and pets

Construction
The decorations are worked top down in continuous rounds (without joining or turning at the end of each round)
Below you will find the instructions to create the Elf
Skills Used
Knowledge of basic crochet stitches and terminology
Working in continual rounds
Simple increases and decreases
Changing colours
You can find some additional useful tips for crocheting amigurumi in this post.
Materials
Hook: 3.5mm crochet hook
Yarn: Each decoration requires around 10-12g / 30-40m of double knit (dk) yarn.
For the majority of the pattern I used Paintbox yarns Simply DK. I used beige yarn from my stash, which had long since lost the ball band, so in this case I have suggested alternatives.
Colours used for the Elf
I have used generic colour names in the pattern, but have outlined below what yarns and shades I used in the elf pictured here.
Substitution Options
This pattern can be worked with pretty much any yarn. Using a different yarn weight will change the size of the finished item and the amount of yarn required.
I recommend using a hook on the small size for your yarn to ensure you get a tight fabric.
You may find this post useful in choosing a substitute yarn.
Other
Place marker to mark rounds (or scrap of contrasting yarn)
Stuffing to fill your decoration. I used hollow fibre stuffing similar to this, but any safe stuffing will do. I think these would work well as mini bean bags too!
Safety eyes: I used two plain black 10mm safety eyes for each decoration
Optional: 6-8cm lengths of ribbon or yarn (per decoration) for hanging loop
Yarn needle & scissors
Gauge
Gauge is not essential for this pattern. Using the materials stated, I achieved a tension as follows;
24 sts and 24 rows in 10cm / 4in of single crochet worked in continual rounds, using a 3.5mm crochet hook or size needed to obtain gauge.
Different tension will result in a different size finished item.
Measurements & Finished Size
Each decoration measures approximately 12cm / 5in tall and about 8cm / 3in wide.
The size will depend on how tightly you crochet. The tighter you crochet, the smaller your finished item. I am generally a relaxed crocheter so you may find yours are smaller!
The finished size will also depend on how full you stuff your decoration.
Stitches & Abbreviations: US terms
(UK Equivalent in Brackets)
dc = double crochet (UK treble crochet) – used for 'pom pom' only
MR = magic ring – see special stitches (modification offered)
rep = repeat
rs = right side
sc = single crochet (UK double crochet)
sc2tog = single crochet 2 together (UK double crochet 2 together) – see special stitches
st(s) = stitch(es)
yo = yarn over
Special Stitches
Magic Ring
You can find a photo and video tutorial on how to create a magic ring here. If you are not familiar with the magic ring for working in the round then you can ch2 and work the first round into the second chain from hook.
Single Crochet 2 Together (sc2tog)
You can find a tutorial for this stitch here
Insert hook, yo, pull up a loop (2 loops on hook), insert hook into next st, yo, pull up a loop (3 loops on hook), yo, pull through all 3 loops to complete the stitch.
All of the characters use the same basic pattern with colour changes made in different places. The PDF version of the pattern includes details for all 5 characters and can be purchased from Etsy, Love Crafts or Ravelry.
The Festive Friend Elf Pattern
Below is the free pattern for the festive elf including photo guides as you go along.
Using your green yarn and a 3.5mm crochet hook, make a MR;
Round 1 (rs): Work 6sc in MR, do not join or turn. 6 sts
Round 2: Starting in the top of the first st from the previous round, 1sc in each st to end. 6 sts
Round 3: *1sc in next st, 2sc in next st; rep from * to end. 9 sts
Round 4: 1sc in each st to end
Round 5: *1sc in next 2 sts, 2sc in next st; rep from * to end. 12 sts
Round 6: As Round 4
Round 7: *1sc in next 3 sts, 2sc in next st; rep from * to end. 15 sts
Round 8: As Round 4
Round 9: *1sc in next 4 sts, 2sc in next st; rep from * to end. 18 sts
Round 10: As Round 4
Round 11: *1sc in next 5 sts, 2sc in next st; rep from * to end. 21 sts
Round 12: As Round 4
Fasten off green yarn and use the invisible join to weave in your ends. I recommend using this method with all colour changes moving forwards.
Join your Red yarn to create the brim of the hat. (If you want a white brim, join white yarn here
Round 13: *1sc in next 6 sts, 2sc in next st; rep from * to end. 24 sts
Round 14: As Round 4
Fasten off red yarn and join your beige yarn.
Round 15: *1sc in next 3 sts, 2sc in next st; rep from * to end. 30 sts
Round 16: As Round 4
Round 17: *1sc in next 4 sts, 2sc in next st; rep from * to end. 36 sts
Round 18: As Round 4
Fasten off your beige yarn and join green yarn
Rounds 19: *1sc in next 5 sts, 2sc in next st; rep from * to end. 42 sts
Round 20: As Round 4
Rounds 21: *1sc in next 6 sts, 2sc in next st; rep from * to end. 48 sts
Rounds 22 – 25: As Round 4
Round 26: *sc2tog, 1sc in next 6 sts; rep from * to end. 42 sts
Round 27: *sc2tog, 1sc in next 5 sts; rep from * to end. 36 sts
I suggest you add your safety eyes, leaving about 3 stitches clear between the two eyes, and partially stuff your decoration at this stage
Round 28: *sc2tog, 1sc in next 4 sts; rep from * to end. 30 sts
Round 29: *sc2tog, 1sc in next 3 sts; rep from * to end. 24 sts
Round 30: *sc2tog, 1sc in next 2 sts; rep from * to end. 18 sts
Round 31: *sc2tog, 1sc in next st; rep from * to end. 12 sts
Finish stuffing the decoration
Round 32 (dec): sc2tog around. 6 sts
Fasten off and use tail to weave the final round closed
Faux pom pom
I created a 'pom pom' for the elf's hat by making a single popcorn stitch, working with yarn held double stranded. As follows;
Using a 3.5mm hook and holding 2 strands of red yarn together;
Make a MR (if you're not using the MR, ch3 and work into the 3rd ch from hook);
Step 1: Work 5dc into the MR, pull the loop mostly closed but do not tighten
Step 2: Remove hook from loop (ensuring you leave the loop open)
Step 3: Insert the hook from back to front through both loops of the first dc
Step 4: Catch the loop from the 5th dc and pull it tightly through both loops of the first
Step 5: Slip stitch into the magic loop and pull it securely closed.
Fasten off, sew in the tails, using the last one to secure your bobble pom-pom to the hat.
Hanging loop
If you wish to add a hanging loop to your decoration so you can attach it to your tree, take a length or ribbon or yarn of about 8cm, using a crochet hook, thread one end through the tip of the decoration (behind the pom pom if you added one), tie both ends together and trim the excess. If your ribbon or yarn is fine enough, twist the loop so the knot is hidden inside.
Then repeat the process with different colours to create your case of friends!
Remember, you can purchase the full add-free printable PDF pattern with all the characters, from Ravelry, Etsy or Love Crafts. This includes a text only version of the pattern, a separate photo tutorial, a colour chart and separate written pattern for each of the 5 characters.
Sharing your finished makes
I love seeing your finished makes – it gives me all the happy feels, especially during the holidays!
So here's how you can share them on social media, if that's your cup of tea!
On Instagram, you can use the hashtag #HookMeHappy or #FestiveCrochetFriends for this pattern, or just tag me @doradexplored (I'll only see this if you have a public account though)
You can add pictures of your finished makes to my Facebook page
If Pinterest is your happy place, you can add them there too – check out my Pinterest account for lots more crochet inspiration from makers across the web.
Happy Hooking
Dx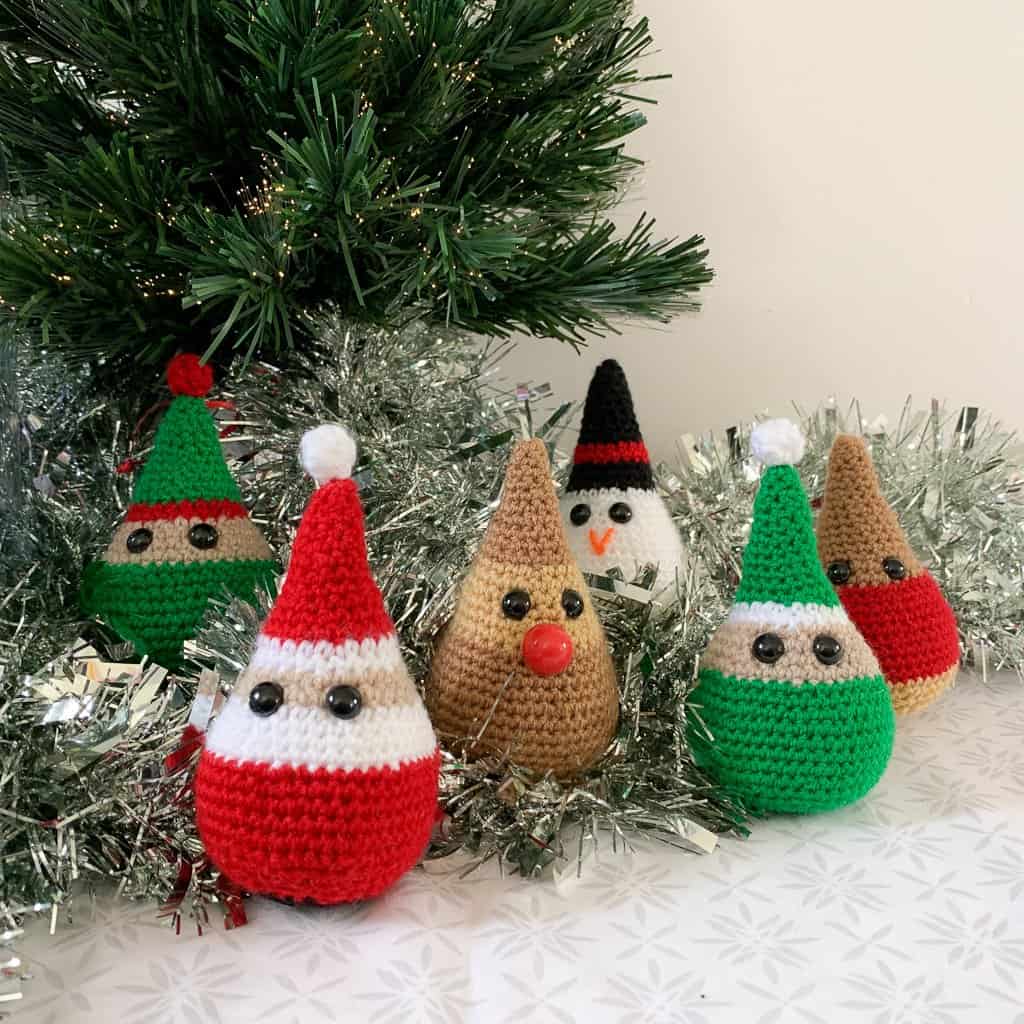 (C) DoraDoes 2020. You may sell what you make from my patterns, but please credit me as the designer. The pattern is for personal use only and may not be shared without written consent. My photos may be shared with credit.