Have you ever seen a crochet hat, sweater or cardigan with a neat ribbed edging and wondered how on earth it is achieved?
Well keep reading as today I am going to share with you my favourite way of creating ribbing which can be used to finish a garment or on it's own to create a stretchy fabric.
There are a couple of classic ways to create ribbing in crochet.
Ribbed Post Stitches
The first is to use post stitches. This is where you work your stitch around the post of the stitch from the previous row. It's the same method used to create crochet cabling, only with the rib you tend to evenly alternate post stitches with standard stitches.
Typically this is worked with double crochets (UK trebles) but it also works with shorter and taller stitches.
The effect given is raised pillars of cables between the regular stitches which sit flush against the work.
The tension of post ribs tends to be a little tighter than regular stitches and the fabric will contain less drape, but there is not much elasticity created.
Working in the back loop only (BLO)
The second main method of creating ribbing is to work stitches in the back loops of the stitches on the previous row.
This is the technique which I'm going to share with you today. It creates a fabric with stretch, which is why I favour it over the post approach. The stretch gives function – what I mean by that is that it helps the hat stay on your head, it helps you gather a cuff round your wrist.
Below is a picture and written tutorial showing how to create the ribbing but a few words before I start about how to use it.
Below is another example of how effective the back loop rib looks like over a larger area. The type of yarn and stitch definition can also make a big difference to the final appearance which is why I have included a few examples of different projects where the same technique is used.
What Stitch should I use?
The back loop only method can be used with any of the basic crochet stitches to create a rib. The smaller the stitch, the tighter the fabric will be.
My personal preference for cuffs and hems tends to be half double crochet (UK half treble) as this is often the most practical, however in the video tutorial below demonstrating how to create a hat band, I have used single crochet (UK double) so you can get an idea of how both look.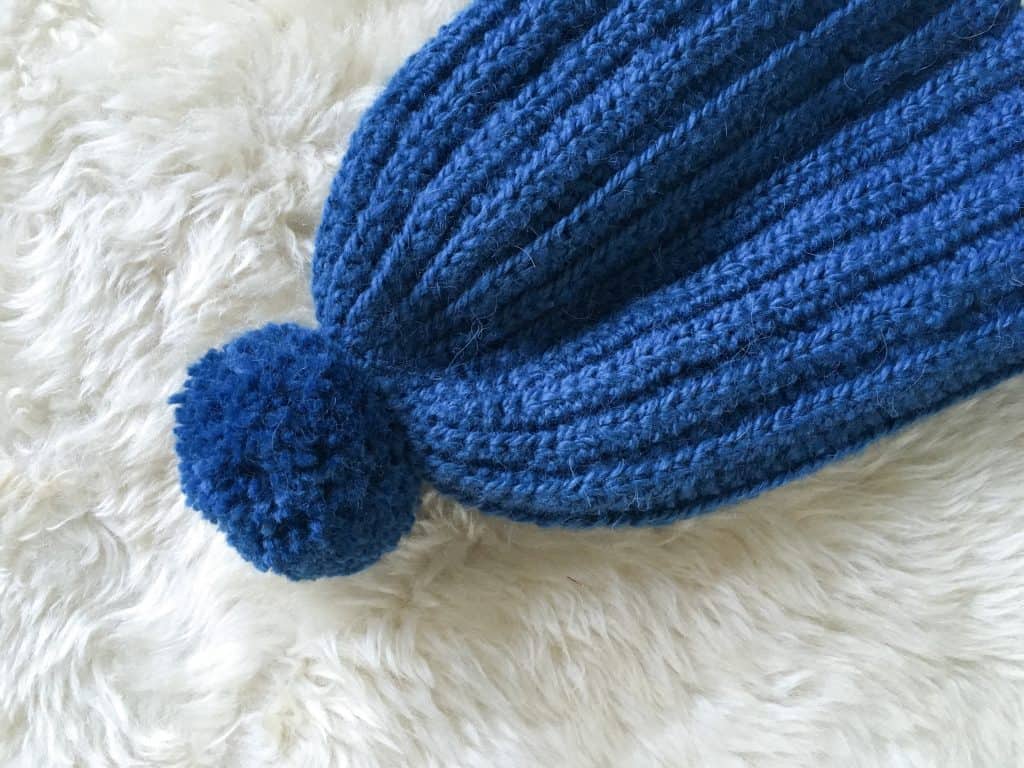 Do I create the rib first?
This is really a matter of choice and dependent on the pattern you are working.
If I am adding a cuff or hem to a sweater for example, I tend to add the ribbing at the end by slip stitching onto the main piece at the end of each ribbed row.
However, there are plenty of patterns which start of with creating the ribbed band and then working the stitch pattern into the row ends.
Like so many things in crochet, there is no right or wrong!
How to Create Crochet Ribbing
If you prefer to use video tutorials, scroll past the ear warmer photo tutorial to watch the video showing how to apply the ribbing technique to create a hat band using the Studio Messy Bun Hat
Ribbed Crochet Ear Warmer Pattern
For the purposes of this tutorial, I am going to make a quick ear warmer using the back loop only ribbing technique.
Stitches and Abbreviations (U.S. Terms)

ch
hdc = half double crochet (UK half treble)
blo = back loop only
ss = slip stitch
Turning Chains
Turning chains do not count as stitches.
Note that I have used a ch1 as a turning chain. This is my preference as it keeps the end of the rib looking tight and neat and stops it from over stretching which is particularly useful for accessories like hat bands and cuffs.
If you want a little more flexibility in your ribbing (for example on a roll neck which will want to fold over itself), work a ch2 to start the row.
Materials
I have used a 5mm hook and some aran weight yarn from my stash. It's a cotton blend yarn so there is quite high stitch definition.
The ear warmer measures approximately 4in wide and is around 18in circumference (it will stretch to fit), but instructions are given on how to alter both measurements to fit.
Obviously my cat Millie had to get involved…
Crochet ear warmer pattern
Row 1: Ch 16, 1hdc in the second ch from hook and each ch to end, turn (15 hdc)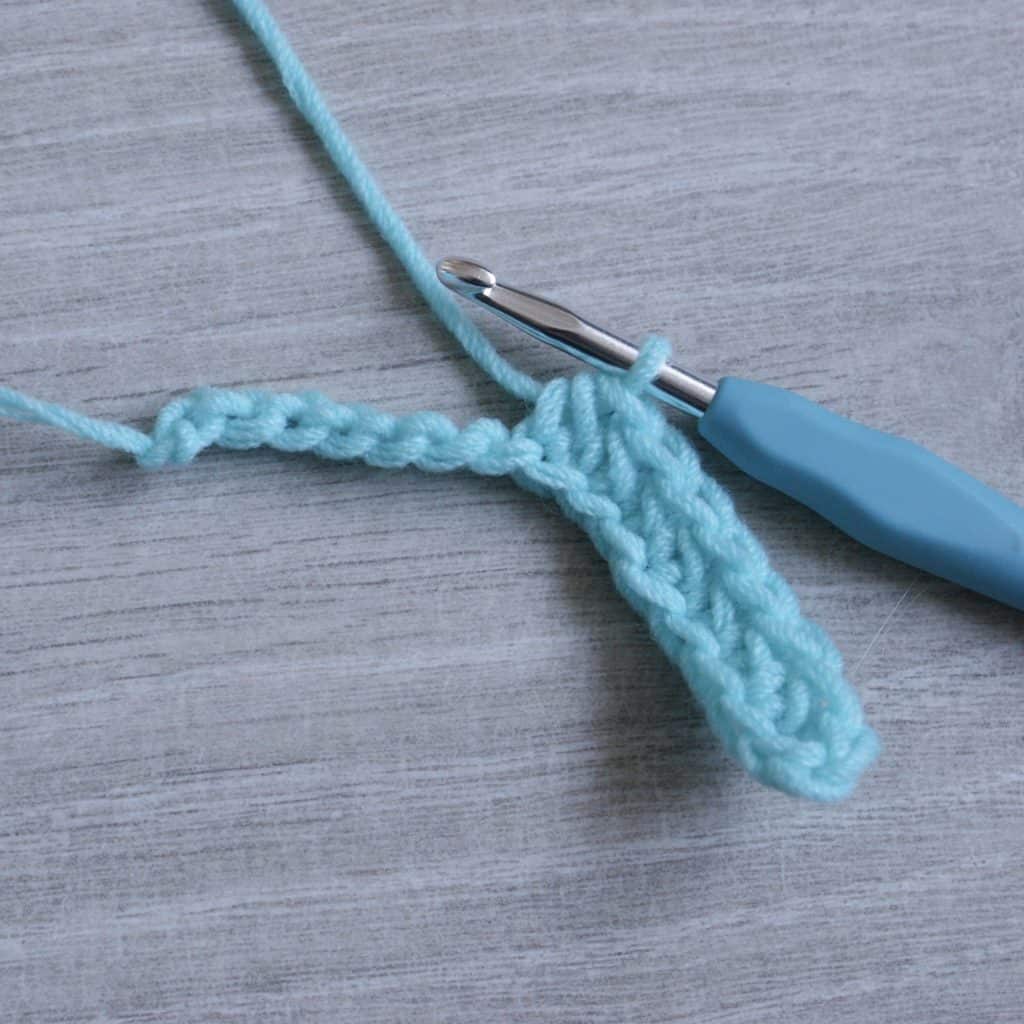 Row 2: Ch1, 1hdc in the blo of each hdc across to the penultimate st, 1hdc through both loops of the final st, turn (14 blo hdc, 1 hdc)
Note that I work the last stitch of the row through both loops as this gives a neater finish.
Row 3: Ch1, 1hdc in the blo of each hdc across to the penultimate st, 1hdc through both loops of the final st, turn (14 blo hdc, 1 hdc)
Row 4-49*: Repeat this row
*I worked 49 rows but this may be different for you so keep checking as you work!
Continue repeating until your work is long enough to just reach round your head when stretched. This should be a couple of inches smaller than your head measurement as it will stretch to fit. I worked mine to around 18in, a couple more rows from this picture.
If you want to alter the width of the ear warmer (if you're making it for a child for example) then decrease the number of stitches in your starting chain until you reach your desired width.
Joining
At the moment there is no right or wrong side so it doesn't matter if you join on an odd or even row.
To join the two ends, ch1 to start a new row then ss through the blo of the hdc in the previous row and the back loop of your starting chain, matching stitch to stitch.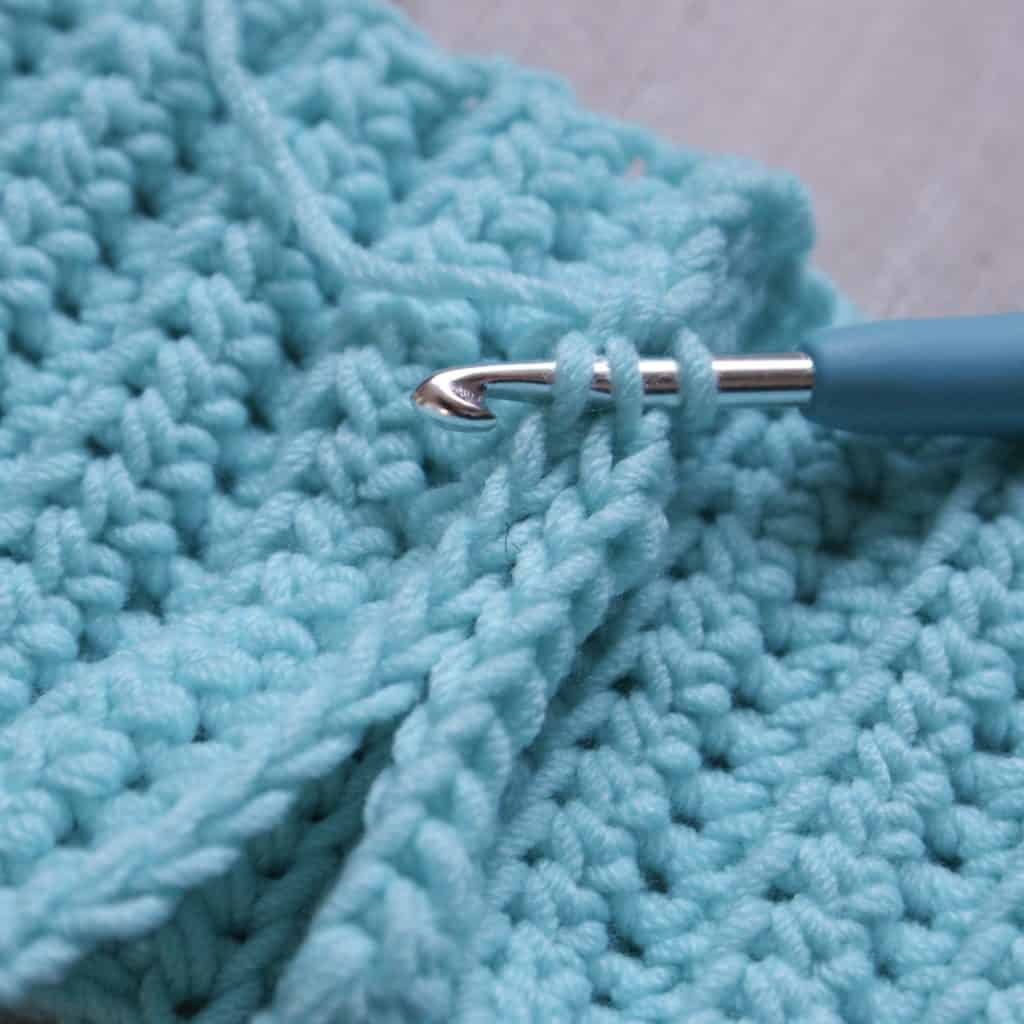 This is why it was important to just work into the humps of the starting chain for the first row!
This join will now be on the wrong side of your work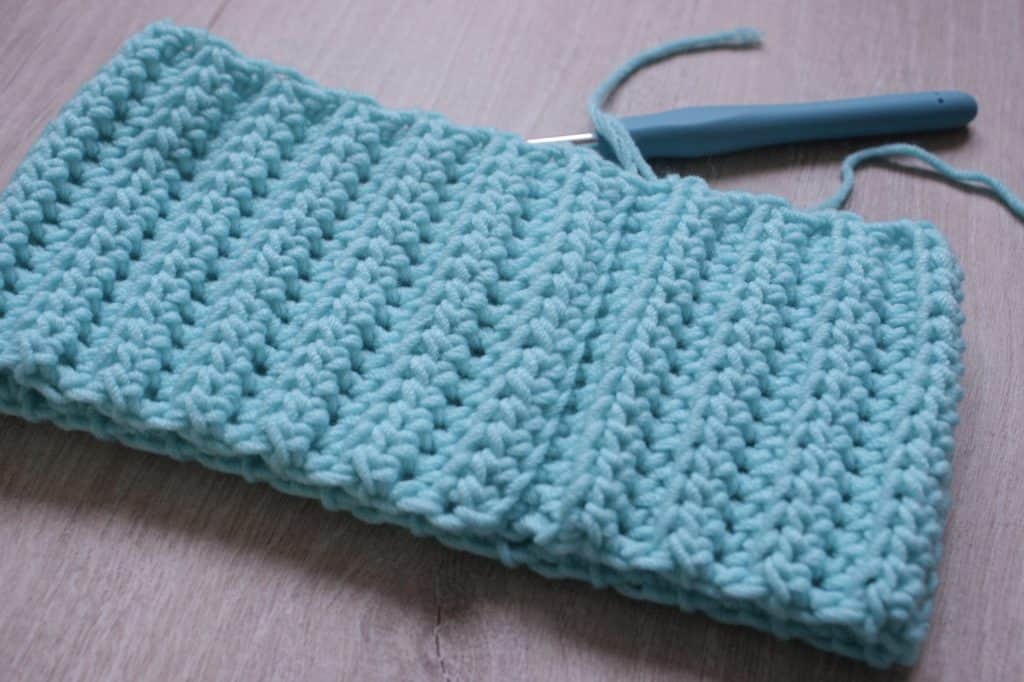 Fasten off, sew in ends
Easy Variations
If you want to modify this to make a feature knot on the ear warmer, take a long length of yar, pinch the sides of the ear warmer together and wrap the yarn neatly round and round the ear warmer.
Use a yarn needle to sew in the end on the inside of the ear warmer
Video Tutorial
Now you know how the technique works, watch it being applied to create a hat band by slip stitching into the brim of the hat
I Hope you find this tutorial useful and would love to hear your thoughts about this method in the comments below!
Happy Hooking
Dx