One of the things which made me fall for crochet was the mindful, calming effect it had on my often wildly over-imaginative, calamitous story-making anxious brain. Something about the rhythm of yarn over hook and watching your work grow, row by row, felt very soothing (even when I was just making wonky squares!).
During periods of uncertainty, I find it helpful to reach for the tools which keep me grounded and calm.
For me that is crochet! (among a few other things!)
If you want to get straight to the stitch and chill section, scroll on down until you see the Mindful Stitches heading, or read on for my thoughts on how crochet helps mental wellbeing.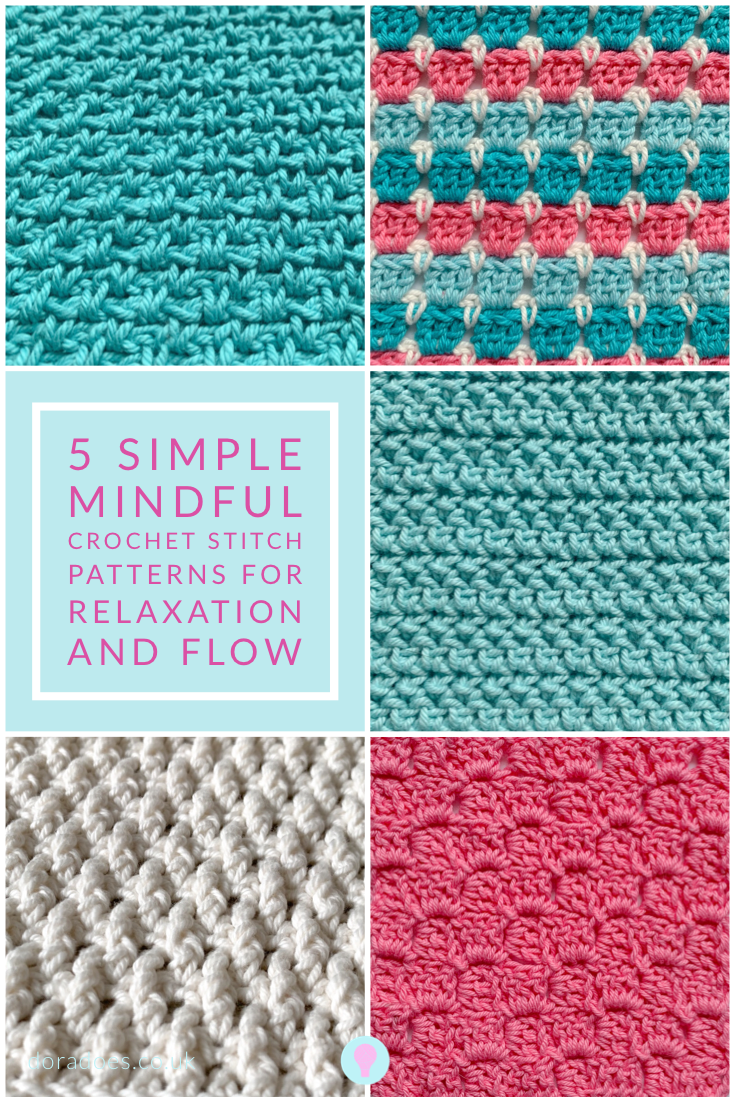 Crochet for wellbeing
I learned to crochet when recovering from hip reconstruction and replacement surgery. It was my therapy during the long healing process and has continued in that role over the many years since.
I think the mindful nature of crochet comes from the routine, rhythmic movement of the hands, taking just enough concentration to get the work done whilst allowing the mind to file the events of the day and to wander off a little, but not too far!
When that mind does stray, or start to predict the future or dwell on the past, the end of the row, or a knot in your yarn will help bring it back.
Crochet keeps me grounded in the present moment, which is at the core of mindfulness. It's the idea that all we have is right now. That's all there is.
Any activity (i.e. crochet) which puts you in a 'flow state' is great for your mental health. Flow is all about being pleasantly engrossed in your current activity, being present with only this moment.
Other great flow activities might be gardening, drawing, painting, gaming, dancing, writing, singing, cooking, building something, running, cycling, meditating, yoga… all the hobbies!
Crochet patterns which require acute concentration, counting (and frogging!) and stitch markers and all the bells and whistles can be great to work, but are not always good for flow or relaxing!
On the other end of the scale, working single crochet in rows and rows and rows with no change, no challenge, no concentration… well that's not for me either.
This post contains affiliate links. This means if you click a link to a product and go on to make a purchase, I receive a small percentage of the sale at no extra cost to you. You can read my full affiliate disclosure here
A good flow inducing crochet project falls somewhere in between.
For me that means a combination of stitches which have a nice rhythm, can be worked without too much attention but don't make you want to snooze either!
I've had a good think about it and, below I share 5 stitch patterns which I think make the grade… not too hard and not too boring… like Goldilocks and her perfect porridge… just right!
Let's get to it!
5 Mindful & Grounding Crochet Stitch Patterns
For each stitch, I give you an overview, instructions on how to work it (or links to tutorials), an indication of skill level required (they are all pretty simple), thoughts about what kind of project the stitch is good for, including some examples of patterns, and any other notes of interest!
I also include the stitch and row multiples so if you want to just get cracking with a blanket or scarf (or something rectangular!) then you don't need a pattern, you can just go! You can read more about stitch multiples here if they are new to you.
In all the swatches you see below, I used Paintbox Yarns Cotton DK and a 4mm crochet hook, but the stitches will work with most yarns and a suitable hook.
Pattern notes for stitch instructions
I use Standard US Crochet Terms and Abbreviations for the following instructions
Turning chains do not count as stitches
Instructions after * asterisks should be repeated as indicated
1. Moss Stitch
This one is my all time, absolute favourite stitch pattern.
You may have also heard it called granite stitch or linen stitch. I recently heard it referred to as tweed stitch too. It's a simple stitch pattern worked using single crochet and chains and can be worked in rows or rounds.
Skill Level: Beginner
Stitches used: Chain (ch), Single crochet (sc) ( UK double crochet)
Stitch and Row Multiple: Work with an odd number of stitches on the foundation row with a single row repeat.
Moss Stitch Instructions
This is the set up I prefer to use for this stitch. There are other modifications to get started so other patterns may vary.
You can find a more detailed moss stitch tutorial (including video) here.
Work an odd number of chains or stitches for your first row;
Row 1: Ch2 (counts as 1sc, ch1 throughout), skip (sk) first 2 sts, 1sc in next st, *ch1, sk 1 st, 1sc in next st; rep from * to end, turn.
Row 2: Ch2, 1sc in first ch1-sp, *ch1, sk sc, 1sc in next ch1-sp; rep from * to end, turn (note that the last stitch will be worked into the ch2 at the beginning of the previous row as this is equivalent to 1sc and ch1)
Repeat Row 2 for the pattern – and that's it!
What to use it for: Literally anything!! That's why it is my favourite!
Check out the Indian Summer Tank Top, The Upside-down Sweater, The Underdog Cardigan or the The Free Flow Sweater – they all use version of the moss stitch!
Notes: This stitch makes quite a tight, opaque fabric because chains tend to be narrower than other stitches. Relax your shoulders and go up a hook size or two for a more drapey or open fabric.
The moss stitch pattern can be used with any crochet stitch. The traditional version uses single crochet but it can work with pretty much any stitch. The Stash to Treasure sweater for example, uses the moss stitch pattern, substituting single crochet for half double crochet. The Happy Days cardigan uses extended single crochets. There is no end to it's versatility!
2. Corner to Corner Stitch
I love the corner to corner stitch. It is so rhythmic and works up really quickly. It has a great modern texture that I just want to squish!
Plus you just keep adding to it until you're done then stop!
Skill Level: Easy once you get the hang of the sideways construction
Stitches used: Chain (ch), Double Crochet (dc) (UK treble), Slip Stitch (ss)
Stitch and Row Multiple: Because this starts at zero and returns to zero, there is no traditional starting chains so no stitch multiple here! Each increase row and decrease row use the same instructions once you get started.
Corner To Corner Stitch Instructions
I would recommend checking out the full c2c tutorial for this one, especially if you're new to it. It's a simple enough stitch but the pictures help!
If you just need a reminder, the basic instructions to get started are below:
Row 1: Ch6, 1dc in 4th ch from hook and next 2 ch, turn (1 block made)
Row 2: Ch6, 1dc in 4th ch from hook and next 2ch (first block on row 2 made), ss into top of ch3 at start of previous block, ch3, 3dc in ch3-sp (second block on row 2 made), turn
Row 3: Ch6, 1dc in 4th ch from hook and next 2 ch, *ss into ch3-sp on next block, ch3, 3dc in same ch3-sp; rep from * to last ch3-sp, 3dc in last ch3-sp (3 blocks made)
Repeat Row 3, adding a block on each row until you reach your desired width.
To decrease, you start each row by slip stitching into the last 3dc and ch sp from the previous row, ch3 then work the pattern repeat across and slip stitch into the final ch3-sp (without working the 3dc). Repeat your decrease row until you have just one block left.
What to use it for: Homewares, blankets, scarves, and wearables. Check out the Free Block Rocking Poncho Pattern which is made using c2c and can work with any yarn and suitable hook!
Notes: Corner to corner is a design style as well as a stitch pattern. You can read about the difference between the two here.
Corner to corner can also be worked with other stitches. When using half double crochet (UK half treble), it's often referred to as mini c2c.
3. Alpine stitch
I have a bit of thing for crochet post stitches (raised stitches or cables) at the moment. The alpine stitch uses front post stitches to create an absolutely stunning thick texture. The name alpine sums it up perfectly. It gives images of a chunky wool blanket on a cosy couch in a secluded ski lodge or woodland cabin…
I would work this stitch in any yarn, any day of the week!!! All the heart eyes for it (though it's difficult to photograph apparently!)
There are a few different version of this stitch out there. Some use front post double crochet (UK raised treble front) where as others, like me, use front post trebles (UK raised double treble front). You can interchange them in the instructions below.
Unlike the other stitches shown so far. This has a right side (RS) and a wrong side (WS) to the fabric.
Skill Level: Adventurous beginner
Stitches Used: Chain (ch), Single Crochet (sc) (UK double crochet), Double Crochet (dc)(UK treble crochet), Front Post Treble Crochet (fptr) (UK raised double treble front)
Stitch Multiple: Can be worked with any number of stitches
Row Multiple: This pattern is worked with a 4 row repeat
Alpine Stitch Instructions
You can find a full tutorial for the Alpine crochet stitch here, but the basic instructions are listed below
Make a chain of any number of stitches;
Row 1 (RS): 1dc in 3rd ch from hook and each ch to end, turn
Row 2 (WS): Ch1 (does not count as st), 1sc in in each st to end, turn
Row 3: Ch2 (does not count as st), *1dc, 1fptr in dc 2 rows below; rep from * to end, turn. (If you used an odd number of sts you will finish the row with a dc)
Row 4: Repeat Row 2
Row 5: Ch2, *1fptr in dc 2 rows below, 1dc in next st; rep from * to end, turn (If you are working with an odd number of stitches, you will finish the row with a fptr)
Row 6: Repeat Row 2
For the pattern, repeat rows 3-6.
What to use it for: Think blankets, cushions and other homewares, chunky accessories and garments such as jackets or chunky sweaters too.
The reason this stitch made it into this list is because I have been swatching it a lot recently for forthcoming patterns and have fallen in love, so watch this space!
I have used a modified version (kind of stretched out!) of this stitch in the So What Sweater (above), which is a free beginner's chunky sweater pattern.
4. Block Stitch
I love the look of the block stitch (sometimes called brick stitch). To me it's a bit like a contemporary version of the granny stripe. Granny stripe plus maybe??
It is a great way to play with colour too, using a contrasting colour for alternate rows.
Skill Level: Easy peasy – there's a bit of working between groups of stitches like in your granny square.
Stitches Used: Chain (ch), Single Crochet (sc) (UK double crochet), Double Crochet (dc)(UK treble)
Stitch Multiple: To achieve straight edges, this stitch pattern is worked with multiple of 3+2 sts on the foundation row.
Row Multiple: This has a 2+1 row pattern repeat
Block Stitch Instructions
I used this stitch as one of the elements of my Maslow's Rainbow CAL and you can find the full tutorial (video included) here.
Make a chain of 3 + 4 stitches (the total multiple is 3+2, I have added 2 sts to accommodate the turning chain)
Row 1 (RS): 1dc in 3rd ch from hook and each ch to end, turn.
Row 2: Ch1, 1sc between first and second dc from previous row, *ch2, sk next 3 dc, sc between dc; rep from * to last st, ss in top of last dc, turn.
Row 3: Ch2, 1dc in ss, *3dc in next ch2-sp; rep from * to last ch2-sp, 1dc in ch1 (from start of previous row), turn
Repeat rows 2 and 3 for pattern, changing colours as desired.
Finish on a Row 3 repeat.
What's it used for: Blankets, scarves, wraps and garments. It can be quite an open stitch, more so if you go up a hook size or two.
Check out the Abundance cardigan which is created using this stitch in a single colour using 4 ply yarn. It has a lovely drape and a nice stretch to it!
Notes: This is a great stitch pattern to get creative with colour. In the swatch, I have used white on the Row 2 repeats – an effect I love. But beware all the ends!
This one doesn't really have a right or wrong side, but my preference (and the side you see on the swatch photographed) uses the double crochet row as the right side.
5. Herringbone Stitch (double or half double)
To finish with, I've chosen something a bit different. A simple stitch with a mindful twist! Herringbone stitches take the normal version of a stitch and effectively add a slip stitch when you pull the yarn through in the first part of the stitch. This creates an angle for the stitch and what gives it the herringbone / tweed look.
The swatch above is worked in herringbone half double crochet, and this one below, is herringbone double crochet (used for the slow living skirt below).
I used to hate slip stitching but once you get the flow, the tension and the angles right with it, it's actually really pleasing, which is why I really enjoy working this stitch.
Skill Level: Easy once you get the hang! (it's just a modified version of double or half double crochet)
Stitch and Row Multiple: This can be worked with any stitch count and uses a single row repeat.
Herringbone Half Double Crochet Stitch Instructions
You can find a written, photo and video tutorial for Herringbone Double crochet here.
Below I will include the instructions for Herringbone Half Double Crochet. Really, once you know how to do one, the other is intuitive. There is no stitch pattern, just work as many stitches as you want in rows!
Step 1: Yarn over, insert hook into stitch
Step 2: Yarn over, pull a loop through the stitch and continue to pull through the next loop on the hook (2 loops left on hook)
Step 3: Yarn over, pull through 2 loops to complete the stitch
It really is as simple as that!
What's it used for: This stitch can create quite an opaque fabric so I love it for garments (see the Slow Living Skirt and the Light Fandango Sweater), but it is also great for cushions, blankets and other accessories.
Notes: There's a little knack to getting the slip stitch part right. Try twisting your hook a little as you pull through the stitch and next loop (which is essentially a slip stitch).
Drop your shoulders!
How to crochet a mindful blanket
You can easily make your own mindful blanket using any of the stitch patterns above. Just follow these instructions.
Select your yarn and an appropriate hook (this is great for digging into your stash!)
Choose your stitch pattern – If you want to swatch you can but it's not really necessary for this project
Make a starting chain as long as you want your blanket to be wide, making sure to take into account the stitch multiple if there is one
Start crocheting following your chosen stitch pattern
Maybe put some music on, listen to a podcast or stream a box set in the background
Crochet until you want to stop, then stop
Come back to it when you're ready
Once your blanket reaches it's desired size (taking into account your row repeats – if you're working c2c, crochet until you get the length along one side you want, then start decreasing!), stop!
Sew in your ends (which I find quite a mindful activity in itself!)
Gift your blanket or snuggle underneath it
Repeat as necessary
I hope you find these stitches relaxing. If you have a favourite stitch you use to relax (I did think about including granny squares, but wanted to mix it up a bit), then I would love it if you shared them in the comments so other people can enjoy them too!!
Big calming crochet love
Dx