This time last year, I started a group on Facebook called My Crochet Wardrobe. The idea behind it was to help encourage people to crochet their own clothes, boost crochet confidence and bust some of the myths which put people off attempting a sweater or cardi.
My mission was to demystify some of the confusion around crocheting clothes. It was a way for me to learn and develop my own understanding as well as to help you (and any crocheter!) to build enough confidence to tackle your first garment pattern.
I set myself the challenge of releasing a new garment pattern on the first of every month, with each garment helping to explain new technique or demonstrate a style of construction.
12 Months, 12 Garment Patterns!
I'm excited to say that I completed my challenge and learned an enormous amount in the process. A lot of it I have shared in blog posts throughout the year, but I thought I would put together a summary of the first year of My Crochet Wardrobe.
It has been a wonderful journey and I am excited to take some of what I have learned into 2020. I have lots of ideas for accessible designs and posts to help you build your own crochet wardrobe!
Note that I have detailed the yarn weight and fibre options, construction style and the design's feature for each pattern. If you're unfamiliar with construction styles, you may find this this post outlining the 6 most common ways to construct a crochet sweater useful, as well as the top-down sweaters demystified post.
Click the pattern title or image to find out more about each design!
Okay, let's review!!
Yarn: Chunky / Bulky wool or acrylic (We are Knitters, Petite Wool)
Construction Style: Modified Drop Shoulder (worked bottom up)
Feature: Ribbing using back loops and creating thumb holes
This is a super simple sweater made with chunky yarn. It's an easy start for those new to garment making with minimal seaming and easy stitches (almost entirely US half double crochets!!)
It focused on using crochet ribbing to achieve different effects…and it has thumb holes!!
The aim was to create a jumper to make you feel super cosy whether out in the cold or curled up on the sofa. It's become a wardrobe staple for me!
Yarn Weight: Lightweight / Fingering / 4ply / Sockweight wool blend yarn (Drops Nord and Eden Cottage Yarn's Natesby for the rainbow)
Construction Style: Top-down hexagon raglan
Feature: Introducing top-down raglan construction
This was my first attempt at designing a top-down raglan sweater, which aimed to explore the top-down sweater construction approach.
Typical of me, I couldn't keep it simple and had to use a v neck hexagon shaping instead of the classic square. This was because the inspiration for the design started with the rainbow chevron idea. I am planning some more traditional top-down raglan designs for next year!
I was blown away by the response to this design. It very quickly became my most popular garment design and has remained at the top ever since so THANK YOU!!!
Rainbow Smiles also inspired Cheeky Rainbows which is the child's version that came out 6 months later! (I don't normally design for kids but you asked so you received!)
Yarn Weight: Lightweight / Fingering / 4ply / Sockweight wool blend yarn (Drops Flora)
Construction Style: Top-down round yoke
Feature: Introducing round yokes
Sticking with my exploration of top-down construction, I designed a round yoke cardigan. It had an overlapping front which created a double breast look when buttoned and a waterfall style front when undone. It's so practical and easy to wear!!
Here I learned how mathematically challenging the design process for round yoke garments can be and how much depends on designer choices rather than some formula! Mind bending!!
Round yoke top-down garments are a dream to make, but they are a bit of a nightmare to design. That said, I took on a few more during the year and am starting to get the hang – I wrote a blog post recently which talks through my top-down round yoke design process – any budding designers among you might be interested to read it!
Yarn Weight: Double knit (DK) cotton or acrylic yarn (Rico essentials baby cotton – blend)
Construction Style: Modified Drop Shoulder worked top down
Feature: Filet crochet and pattern versatility
One of the things I love about crochet is how versatile it is. Having both a sweater and a dress pattern in one design appealed to that aspect.
My approach to construction switched from the previous top-down seamless design style to use the modified drop sleeve option (read about construction styles here).
The highlighted feature for this design was the use of filet crochet. It is an amazing technique I also used in the qwerty scarf – one of my early designs.
The design itself was inspired by the image of a vintage maxi dress I had seen on Pinterest and couldn't get out of my mind. This retro vibe was the inspo behind the bunches in the dress shoot.
Yarn Weight: Lightweight / Fingering / 4pl / Sockweight wool blend yarn (hand dyed Marino and nylon sock yarn)
Construction Style: Round yoke top-down
Feature: Making crochet work for summer and thinking about fabric and drape (introducing linked crochet stitches)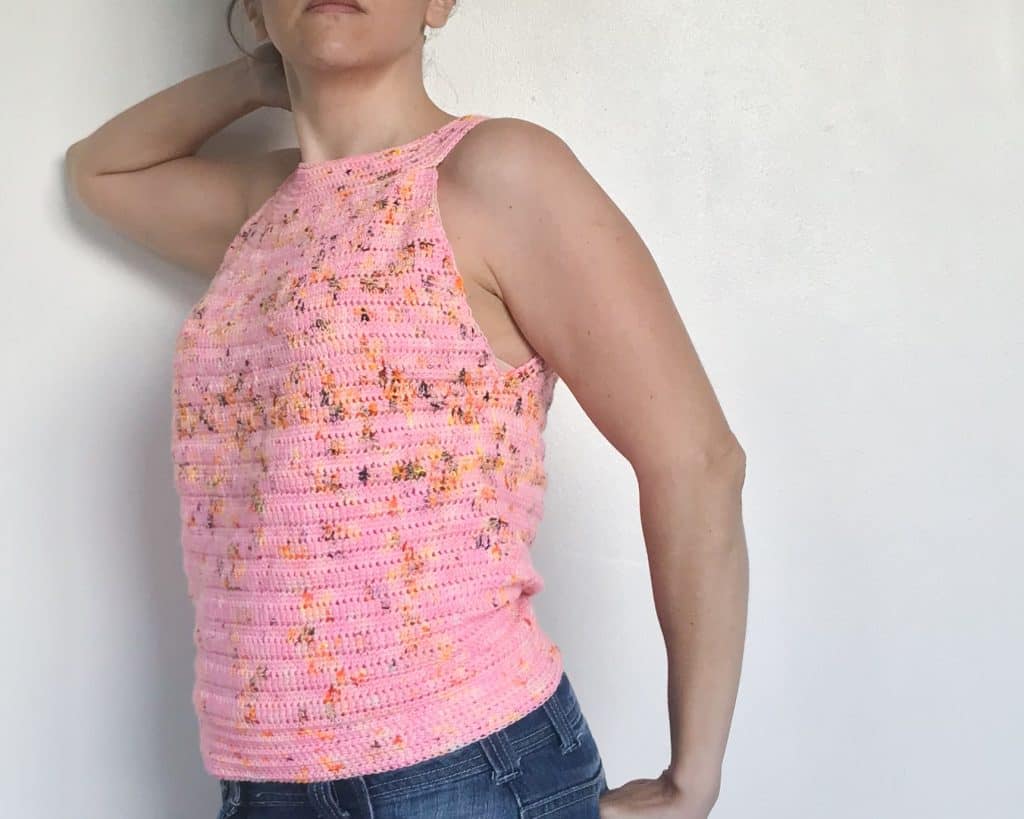 Though it is counterintuitive, wool can work really well in summer. It's sweat wicking properties keep you cooler than you might expect!
With this design I returned to the top-down round yoke design, though as you see here the yoke itself is more of a halter or ring-neck style. It's a way of encouraging you to think outside the box here – a traditional round yoke isn't the only way that construction style can be used!
I also introduced linked crochet stitches in this pattern. I wanted to get you thinking about fabric and drape. Unless it's a part of the design style, I prefer an opaque fabric without holes for my crochet garments – particularly those where nothing is worn underneath! But I still want the fabric to fall nicely over the body (Tip: Use a bigger hook!)
Linked stitches are perfect for clothing and I know it won't be the last time I use them!!! The taller linked stitches, such as linked treble crochets, are actually very similar to the tunisian crochet simple stitch look!
Yarn: Aran weight cotton (Drops Paris)
Construction Style: Side to Side, two pieces
Feature: Working with cotton and changing the rules!
Having spent the first half of the year exploring traditional construction styles, I wanted to go for something completely different, just to reinforce the fact that once you know the rules you can go and ignore them!!
This is a super quick, oversized, simple summer tee which improves with wear (I love how cotton softens up with use).
Back in winter 2018, I designed my first dress, the Winter Solstice Dress, which was also a side to side design. I wanted to do something to summery to counterbalance that. I took the side to side construction and used more fillet crochet techniques to create the triangular geometry and then turned it on it's side!!
Yarn: Double Knit (DK) Cotton from stash
Construction Style: Dolman – Batwing, worked bottom up
Feature: Introducing the Dolman style, stash busting and sustainability
Sustainability is something that weighs on my mind when I am designing garments. I believe handmade clothes last longer, and are cared for better which is one of the reasons I encourage you to crochet your wardrobe!
I hate waste and over the years have built up quite a stash of left over balls and scraps. This sweater was designed to try and use that stash in a practical and productive way. To turn your stash into treasure!
I had most white so picked that as a background and then just went through my stash to create the colourful stripes in the centre. It was a real challenge to not coordinate the colours and make everything symmetrical but was a great exercise in letting go of control!!! You can just see in this picture that I ran out of pink on the hem so, keeping true to the 'use it all up' ethos of this design, I finished it with white!
If you like stash busting patterns, but not in garments, you might want to check out the Bobble Pop Blanket which is a free blanket pattern also designed to use up any bits an bobs (and can be made in any yarn weight)
Yarn: Lightweight / Fingering / 4ply / Sockweight yarn (Drops Aplaca Silk)
Construction Style: Waist down in the round
Feature: Exploring skirts, slowing down, drawstring design and drape
This is my first ever skirt pattern and after many false starts, it turned out just how I wanted! The drawstring means it's secure and it can be worn bare legged in the summer or paired with tights or leggings in the colder months!
Like the Corona top, this design is all about the drape and uses an opaque stitch; the Herringbone double crochet. This is a beautiful stitch to work, giving an almost tweed look.
It is a little slower to work than a traditional double crochet, until you get the hang of it at least. But I am all for encouraging slowing down (especially in August) and, being mindful about crochet and taking time to enjoy doing it for the process!
Yarn: Double Knit (DK) wool or acrylic yarn (Eden Cottage Yarns Milburn BFL wool with silk)
Construction Style: Top-down round yoke
Feature: Cables (post stitches)
After falling for top down design at the beginning of the year, I wanted to try something a little more complex, so introduced cables to the mix.
Post stitches are used very commonly in crochet, but combining them with the top down design made a new combination for most of my wardrobers!!
This sweater is based on one of my earliest designs, the Falling Pines poncho, which has a similar cable work pattern but was easier to design because it didn't need to fit anywhere other than the neck!
I made this sweater during my family summer holiday so it will always have special South Devon memories attached!
The pattern itself is not that complex once you get used to how the cable design works. It definitely reignited my top down love!! Have I convinced you about it yet?
If you worry about getting top down sweaters to fit, check out my recent post which explains the various ways to adjust a top down yoke based garment (whether it's a round yoke or raglan design).
Yarn: Aran / Worsted weight wool or acrylic yarn (Paintbox Simply Aran)
Construction Style: Modified drop sleeve worked bottom-up
Feature: Everyday texture
As autumn ends and the weather starts to cool down, I began to think about making warmer garments. A simple way to add warmth to a garment is with texture. It creates more layers and spaces in the fabric to trap air, which adds insulation.
The Got your Six cardigan uses one of my favourite textured stitches and is available in this cropped length or a standard hip length, with the option to add pockets!!
The body of the cardigan is worked bottom up without side seams and uses the modified drop method for the sleeves. It's a simple and quick pattern, perfect for those newer to garment design. And it is so incredibly useful and wearable!!
Yarn: Chunky acrylic (Paintbox simply Chunky)
Construction Style: Drop Shoulder worked top-down
Feature: Back to basics and going for it!!
For this design, I wanted to continue working with texture but go back to basics with design. I had in mind that this year was about introducing people to garment design so went for a drop shoulder design, which is the simplest to create, but I added a post stitch pattern on the front to keep it interesting!
Because the design is oversized, meeting gauge is less vital – I have learned that gauge is one of the aspects which puts people off making clothes so wanted to make it as small an issue as possible!!
The name was chosen because I strongly wanted to counter the pressure that we put on ourselves – and just say "So What?" if it isn't perfect – just give it a go regardless!
I wrote a blog post explaining more about the story behind this sweater and my attitude to experimenting with crochet (spoiler – it doesn't matter if it's not right – you will learn something, and it's easy to pull apart and start over!!)
This was a pretty emotional project for me in many ways!
"So What?" is also the first fully graded (for sizes XS – 3XL as all my garments are) garment design I have given away for free in its entirety on my blog. I want garment making to be accessible for all and this was my way of making it so!
Yarn: Double knit (DK) wool or wool blend (West Yorkshire Spinners Colour Lab)
Construction Style: Top down – cuff to toe
Feature: Introducing Socks
What else could I make for December other than SOCKS!!!
I wanted to cover all garment types over the year and I couldn't leave socks off that list!!!
This is the first pair of socks I have designed and I did a LOT of research before I tackled them as well as whilst I was going for it.
Just like with my sweater construction blog, I wrote an article which looks at the anatomy and construction of a sock as well as the pros and cons associated with the different approaches to making them.
The Snowfall socks are worked from cuff to toe with an afterthought heel.
I know people complain about second sock syndrome but I have to say I have a new fascination with socks and see more in my future!!
So there we have it – the first year of My Crochet Wardrobe!!
I hope you found this little retrospective useful. If you aren't a member and want to join the facebook group, just click here.
I am excited about continuing to build my crochet wardrobe next year and hope I can take you with me.
If you've never crocheted a garment, the answer is yes, you can do it! Just give it a go!
Big Love and Happy Hooking
Dx