Should you make a gauge swatch?
Straight in there with the question you really want to know the answer to! Well the short answer to that is yes, except when you don't need to…
Let me break that down a bit for you.
What is gauge?
Gauge, also referred to as tension is a measure of the density of your fabric. The gauge measurement is given as the number of stitches and rows of your stitch pattern made in a certain area (traditionally a 10cm / 5inch square).
You may see it written something like this:
20 sts and 16 rows over 10cm of half double crochet using a 4mm crochet hook.
This just means that for every 10cm of width, you need to work 20 sts and for 10cm of depth / height you need to work 16 rows.
The hook size is important too because (if you've been crocheting for any length of time then you will know this) the size of hook you use has a big impact on the size of your stitches and ultimately your finished work (more on this later!).
If you want to learn how to make a gauge swatch read this post!
When does gauge /tension matter?
Theoretically the 'right' advice is always to make a gauge swatch, but I'm a realist and know that's not going to happen, so this is my guide to when you really should make a swatch and when you can let it slide!
The rule of thumb I work with is that gauge matters if you are crocheting anything to a specific size, shape or yarn quantity. It could be something simple like a hat or something more complex like a cardigan.
Let's say you are crocheting a sweater. The designer will add a section in their pattern telling you what gauge they used when they designed the sweater.
The instructions for each size of the pattern will be based on this gauge. So if the designer is working 20sts for every 10cm but you're using a different yarn or crochet a lot looser and you make 16 sts in 10cm then your project is going to work out much wider than the dimensions given in the pattern.
If you want the sweater to fit as it does in the design then you need to make a gauge swatch to check you are working to the same gauge as the designer. Yes, you can check your gauge once you've started, but if it's wrong then you'll have to start over!
If you're making something like a scarf then gauge is less critical to the success of the project. In situations such as this then, assuming I'm using a similar weight yarn to that listed in the pattern, I wouldn't bother making a gauge swatch. I've been crocheting long enough to know my average gauge for the basic stitches so I know if it's hugely different to the desinger's! Ultimately, if my scarf is a bit wider than the one in the picture, it will still be a successful scarf!
Amigurumi is an interesting one. I don't see gauge as too importatnt with this because it's all relative. However, if you want your finished make to be the same size as the design then you need to stay on gauge. You also need to make sure your stitches are tight enough that the stuffing does not poke through the holes!
One other thing to note is that if you are not on gauge then you may use a different amount of yarn to that recommended in the pattern. As a designer, i calculate the yarn amounts based on the amount used at the stated tension. If you crochet tighter then your finished item will be smaller and you will have likely used less yarn. If you crochet more loosely than the gauge then your yarn will not go as far – it's this one you want to watch for as losing yarn chicken is no fun at ALL!!
What impacts gauge?
Gauge can be affected by many factors but these are the main ones:
Hook size
The larger the hook, the fewer stitches you will get in your 10cm swatch. Some people even say that the type of hook you use (wood, metal, in line etc.) can impact your gauge as the yarn moves differently over the different materials.
You may think that a slightly different hook size would just Perhaps adds or remove one or two stitches here or there. That may seem like a small thing but one or two stitches off over the course of a sweater can change the finished size by a significant amount!
The type of yarn you use
The thicker the yarn you use, the fewer stitches you will get in your 10cm swatch. For example you may only get 8 sts in 10cm if you're using chunky yarn whereas you may get 28 in a fingering weight.
The designer should tell you what yarn they used and, importantly, the yarn weight.
I always try to offer ideas about yarn substitutions in my pattern. I may use a double knit yarn for example, but even within that category, there is a lot of variation (usually based on what fibre you're using). If your gauge is right however, then you're good to go!
Here's a peek from many years ago (I had just cot my cat and couldn't stop taking photos of her!) when I failed epically at yarn substitution, didn't make a swatch but did make a hat fit for a giant… the one on the left is my second attempt with the correct weight and it was still a bit big!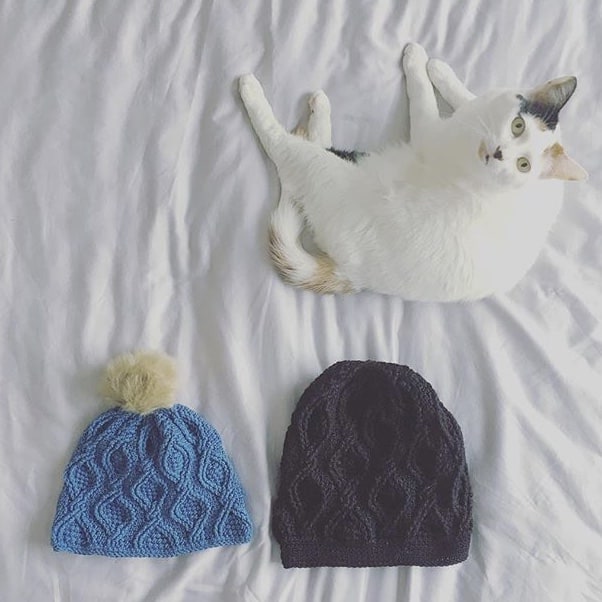 Fibre content of the yarn can impact gauge too. I find that I crochet more tightly with cotton than acrylic as cotton tends to have more friction. This is why you need to be a bit mindful if you are substituting yarn for a different fibre. Fibres all behave differently – just look at your wardrobe to see how your wool sweater hangs compared to a cotton shirt!
Your crochet style
Here is where it gets a bit more vague. There are many ways to hold hook and yarn which create different tensions and can impact your gauge. Some crocheters work very tightly, others tend to crochet fairly loose. I am probably on the more relaxed side.
It's pretty hard to change your crochet style once you have built the muscle memory, so if you know you crochet super tight then you know you will probably need to go up a hook size to counter this!
Other factors
Even your mood can impact your gauge – if you have more tension in your body then this will transfer to your hook.
I even find that the way I sit can make a difference – my gauge can shift a little when I crochet on the sofa compared to when I crochet in bed!
Familiarity – when you can work the stitch pattern without paying too much attention I find that I work faster and my gauge relaxes. Unless I am watching something really stressful on Netflix!

How to change your gauge
So you've done your gauge swatch but it doesn't match – now what do you do?
The go-to way to change your gauge is to change your hook size. I would also double check the yarn weight you are using is suitable for the pattern you are using.
How to alter your hook size to change gauge
If you go up a hook size then your stitches will be bigger so you will get fewer stitches in 10cm. So if you have more stitches than stated in the gauge then try using a bigger hook. If you have less stitches than in the gauge swatch then this suggests you crochet looser than the designer so try going down a hook size to make your stitches smaller.

Blocking
You gauge can dramatically change when you block your work. Some patterns give a gauge for a blocked and an unblocked swatch so make sure you are comparing like with like!
If you're not familiar with blocking, it is the process of adding water to your fabric and pinning it out in the final shape to dry.
Blocking is a way of getting rid of any curls or kinks in the fabric you have created and really highlighting the stitch pattern.
You may not always need to block your work but, for example, if you're making a lacy shawl, then blocking will really bring out the pattern and make your work look finished and professional.
What if your stitches match the gauge but the row heights don't?
This is a trickier problem to solve and has a lot to do with your crochet style.
When you pull up your loop, some people yank it up so they have a big loop and therefore a tall stitch, and some 'ride' really close to the previous row keeping the loop small and having a shorter stitch.
Other than changing your crochet style, it's hard to offer a solution here. If you know your rows tend to be tall or short then you can remove or add rows to accommodate the differences.
Want to paractical help on calculating your gauge?
Sign up below to receive a FREE PDF printable Crochet Gauge Swatch Workbook which will help you calculate your gauge – whether you are working for a pattern or designing your own, this is a super useful tool to record your gauge and keep track of your project information
Click here to sign up or complete the form below and submit!
 %MINIFYHTML5f6868e3b247035f275ba2af7a9420b639%
Are you converted?
So have I converted you to the importance of checking your gauge?
There's a lot if information here and I know it can seem overwhelming but making a gauge swatch and checking you match the patter you're working with really takes your crochet up a level.
I promise it will save you hours and hours of frogging – I can say this because I have wasted those hours and hours and dearly want to stop you doing the same!
Making a swatch is also a really good way to get familiar with the stitch pattern you're going to be working as well as with the yarn your using so it has added benifits!
So go on, take that 20 minutes and get swatching – you won't regret it!
Big Love
Dx