The Corner to Corner, or C2C stitch pattern is hugely popular among the crochet community. It's worked on the diagonal, from one corner, increasing to the widest point and eventually decreasing back to the opposite corner (hence the name).
It creates an easily worked dense fabric making it perfect for home decor and garments.
The pattern is worked in diagonal blocks with each block being made up of a chain 3 and 3 double crochets (UK trebles). You turn at the end of the row and work more blocks into the space either side of the block on the previous row.
It looks pretty complicated but is actually a really fun and easy stitch to work. Because it is a simple repeating pattern, it's great for large projects you can work without too much thinking or counting!
C2C is great to work in stripes or with variegated yarns (as above) and, because of the way the pattern is made from blocks, this techniques is often used to make graphgan blankets – that is working the blocks in different colours to make a picture – as if each block is a pixel.
There are whole websites and facebook groups dedicated to c2c patterns and pictures. It's quite an eye-opener!
So, how do you do it? Read on for a step by step guide with picture tutorials.
Corner 2 Corner Crochet Technique – Picture & Written Tutorial
Materials
The C2C technique can be worked in any yarn and appropriate hook. For a looser fabric with more gaps and drape, increase your hook size or for a more dense and tight fabric (for example for a cushion) go down a hook size.
Stitches and Abbreviations (US Terms)
ch = chain
dc = double crochet (UK treble crochet)
sp = space
ss = slip stitch
To start and increase
You will start row 1 with 1 block, row 2 has 2 blocks, row 3, 3 blocks and so on. Increase the number of blocks until you reach your desired width.
Using your chosen yarn and appropriate size hook, Ch 6
Row 1: 1dc in 4th ch from hook and next 2 ch (1 block made), turn
Row 2: Ch6, 1dc in 4th ch from hook and next 2ch (first block on row 2 made)
ss into top of ch3-sp at start of previous block, ch3, 3dc in ch3-sp (second block on row 2 made), turn
Row 3: Ch6, 1dc in 4th ch from hook and next 2 ch, *ss into ch3-sp in next block, ch3, 3dc in the same ch3-sp; rep from * to end (3 blocks made), turn
Row 4 onwards: Repeat the stitch pattern from Row 3, adding a block on each row until you reach your desired width.
Once your work reaches the widest part, tou are then ready to start the decrease section.
Decreasing and finishing
Decrease Row: Worked in the cream yarn in the pictures
ss into the 3 dc from the last row and into the ch3-sp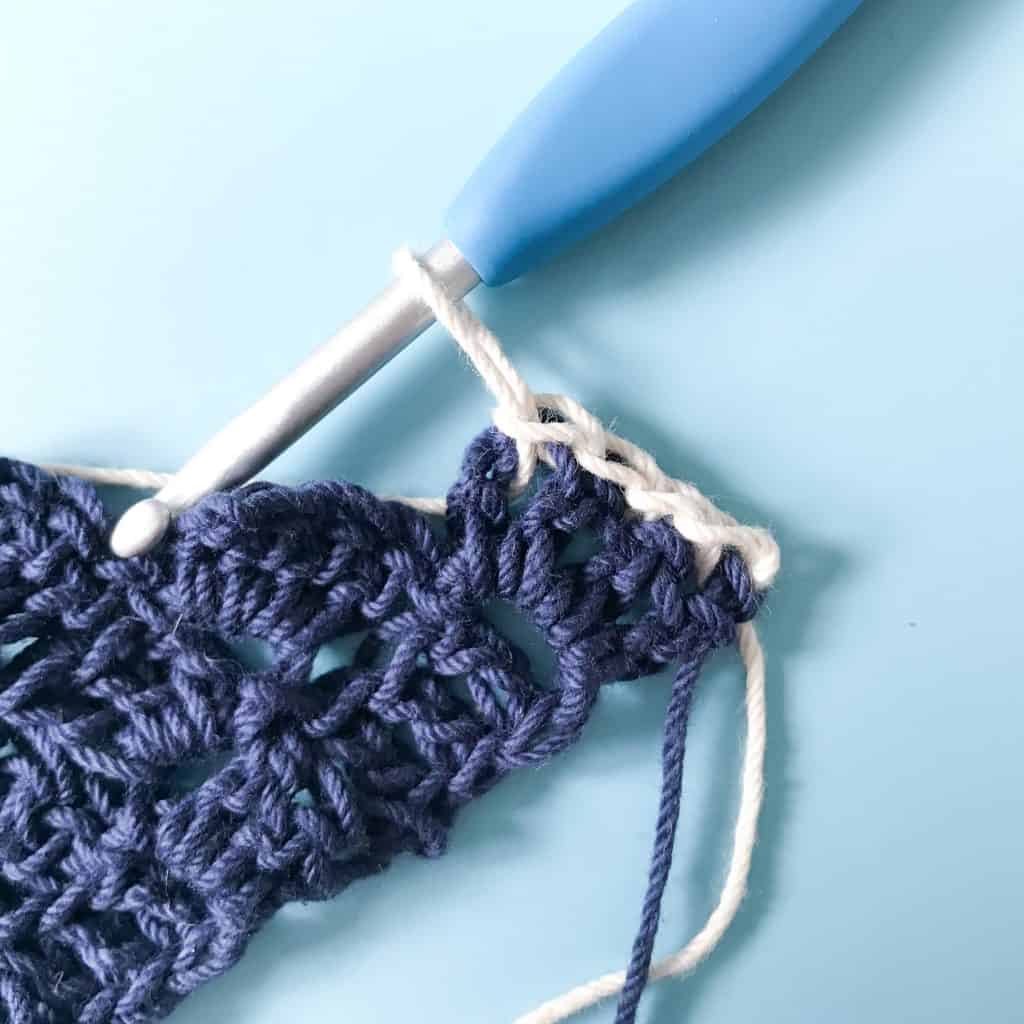 *ch3, 3dc in ch3-sp, ss into next ch3-sp; rep from * to the end of the row and do not make a block in the last ch3-sp (stop at the ss).
This decreases the row by one block.
Repeat the decrease row until you are down to the last block and finish with a ss in the last ch3-sp.
Fasten off, sew in ends and add a border or block to size if required.
There you have it, you're ready to start your corner to corner journey! Why not give the free c2c block rocking poncho pattern a try?
You can also learn more about c2c as a stitch pattern versus a construction technique in this blog post.
If you found this post useful, please feel free to share on facebook or pinterest and spread the crochet love!
Happy Hooking
Dx