Ever wanted to design your own crochet sweater or dress but don't have a clue where to start? Well this post is that place!
This is an extended version of the crochet design 101 post which first appeared in CrochetZine in June 2019, this post will take you through the key steps you need to follow when designing crochet garments.
Before I start I want to say that there are few absolutes in crochet design.
This post will give you a simple overview of my own process (which has changed a LOT in the last 2 years!) so if you work a different way, that's fine too!
When I started designing, I used to just pick up the hook and see what happened and there is a lot to be said for the creative freedom in doing that. However, experience (and a LOT of frogging) taught me that if I do all the prep before I start then it saves me lots of time (and tantrums!) and makes the whole thing more fun!
My adult clothing patterns are all graded for 7 sizes from XS – 3X so when designing, I need to think ahead about how a design is going to work across that range. This is one of the factors which drives the design process I'm going to outline for you today.
This is not meant to be a complete guide to pattern design. It is just a top level approach to the process to get you started. There are 100 tangents I could go down on every aspect but I've kept it simple here. Though I encourage you to explore your own tangents too!
The 7 key steps in crochet garment design
Decide what you are going to make
Figure out the pattern pieces
Choose your stitch pattern
Choose your yarn and hook
Make a swatch
Do the maths
Hook it up and make adjustments
You can actually work steps 1 to 4 in pretty much any order, because they are all interdependent. Whatever garment you choose to make, it's important that you consider how the stitch, yarn and shapes will all work together.
Let's go into some more detail with a worked example.
Step 1: Decide what you want to make.
Think about the shape and style, fit and drape of your garment. Will it have cuffs, collars hems?
Sketch it out – it doesn't matter if you're not great at drawing, I'm no Monet as you can see!
I'm going to use this example of an oversized drop shoulder sweater with no shaping to keep it simple.
Step 2: Figure out the pattern pieces
Think about the shapes needed to make your garment and how they will fit together. Essentially you will just create crochet fabrics in these shapes and then join them all together to make your garment.
If you need a hand getting started with this, I recommend you read my blog giving you 6 types of sweater construction as a starting point. If you're feeling adventurous, you may want to look at top-down garments too!
I'm only really looking at garments which are worked flat here. There are different considerations for shaped garments like hats and socks. The basics apply but I am not going to address shaping in this post.
When I started designing, I had no idea how clothing was constructed. I experimented a lot, got it wrong a lot, looked at favourite garments in my wardrobe, read books about construction, talked to designers and generally did lots of research and I'm still learning all the time!
If you sew your own clothes then you will definitely be at an advantage here as it gives you a great understanding of the construction process.
Once you have decided on the shapes of your pattern pieces, you need to work out the measurements of each piece.
This is what my drop shoulder schematic looks like where the body is worked bottom up in rows and sleeves are worked cuff to hem. I have allowed 20cm depth for my arm holes.
If you're not sure where to start with sizing, have a look at the Craft Yarn Council Standards. Their website is chock full of useful information – get it bookmarked asap!!
Ysolda also has an extensive sizing chart which includes measurements not given in the craft yarn council standards. You chan check out her super useful blog here
Step 3: Choose your stitch pattern
You might have started your design based on a stitch pattern. This is quite often what inspires my design. I see a stitch I like and start to think about what sort of garment it might work well with.
Ask yourself ; do you want to create an opaque fabric or one with open work? What about lace work? How much stretch do you want in your fabric? How much texture do you want in the fabric?
My advice is to play around a lot here! If you have one, browse a Stitch Directory book or have a nose on Pinterest. Try swatching with a few different stitches, hooks and yarn weights.
My Corona Summer Top was inspired by an addiction to working linked crochet stitches. I went up a hook size or two to get the right drape on the body based on swatching with different hooks.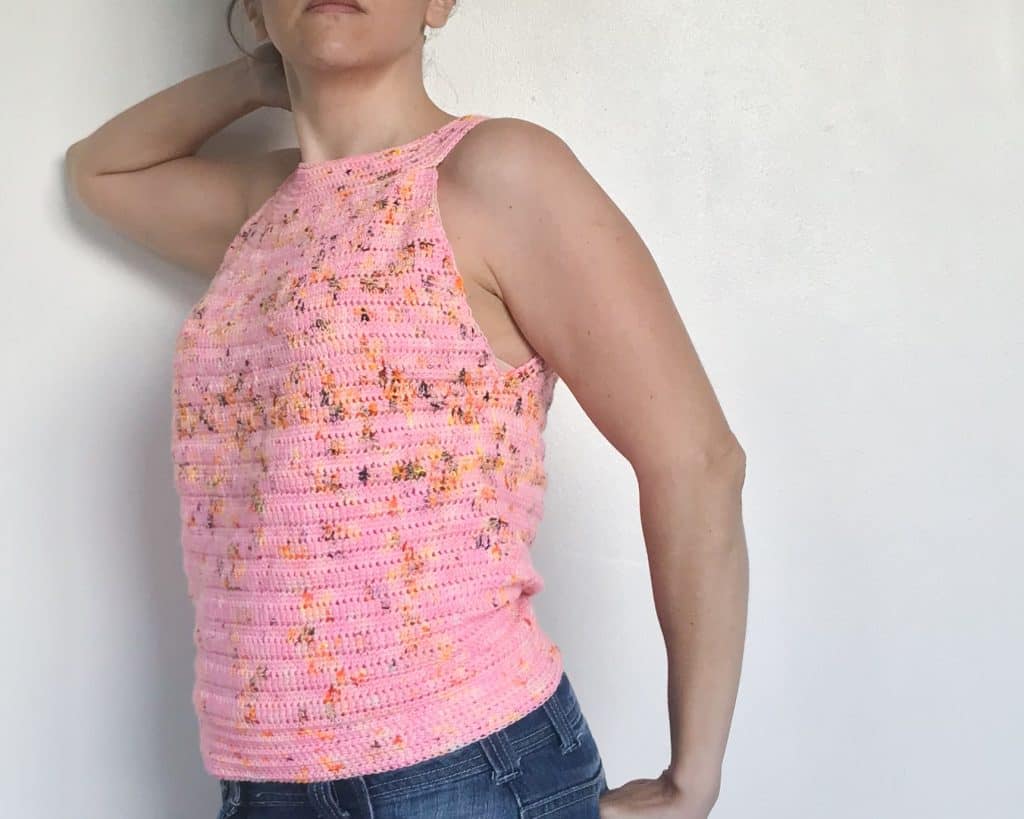 Once you have your stitch pattern, make a note of any stitch and row repeats that are needed for the pattern repeat. This is really key when it comes to calculating your stitch and row counts.
You also need to bear in mind whether your stitch pattern has a right and wrong side as this will impact your row counts.
Step 4: Choose your yarn and hook
Think about the properties of your fibre, the yarn weight and how these will work with your chosen stitch pattern.
Is your yarn smooth or does it have a halo? How is the yarn made? Is it plied or roving? Is it likely to felt? Would that be useful?
How will it wash, drape and wear? Will it need blocking? Will it feel nice against the skin? Is it warm or cooling? Are you combining fibres? How will they work together?
What about hook size? Will the recommended hook size for the yarn give your fabric the right drape or do you need to go up a size?
Crochet stitches are generally made in a way which means they tend to be thicker than most knit stitches. Going up a hook size might create a fabric which drapes more, which is helpful for garments. That said, you can also create a beautiful drape with your stitch pattern.
Once again, it may be a yarn which inspires your design. My most popular pattern, the Rainbow Smiles Sweater was inspired the beautiful hand dyed rainbow mini-skeins I picked up from Eden Cottage Yarns at Yarndale. It took me a while to work out how to use them in a way to show off the yarn.
Once you have your stitch patterns and material sorted…
Step 5: Make a swatch and measure your gauge
Using the the same yarn and hook as you'll be making the garment with, make a gauge swatch at least 5 inches square.
You can find instructions on how to make and measure your gauge swatch here.
Understanding gauge is so important. I know it's not glamorous, but it is your foundation! I promise it's not as complicated as people sometimes think! If gauge is a bit of a black hole then you might want to read my post explaining why you need to make a gauge swatch.
Gauge should be written as the number of stitches and rows over a specific measurement. Let's say I'm working my sweater in UK Treble Crochet using a 4mm hook. My gauge statement might read something like this:
"18 sts x 12 rows in 10cm of treble crochet using a 4mm hook"
Step 6: Do the maths!
For each piece you need to make, calculate the stitch and row counts.
Please don't be put off by the Maths!
I have written out the the simple formula below, but if you want a more detailed explanation, you can read this post on how to calculate row and stitch counts using gauge.
Using our basic sweater as an example, lets calculate our row and stitch counts for the body panel.
Stitch count: Gauge sts (18 sts) / Gauge measurement (10cm) * Width of fabric (50cm) = 90 sts
Row count: Gauge rows (12 rows) / Gauge measurement (10cm) * Length of panel (60cm) = 72 rows
So, for my body panel, I need to work 90 sts across and 72 rows to make it the size given in my earlier schematic.
If you're using a multiple then you will need to alter these numbers to fit (e.g. If I was working with 3+1, I would need to change my stitch count to 91)
Depending on the shapes of your pattern pieces and your stitch pattern, you'll need to know whether you're working bottom up or top down and which is the right and wrong side.
A note about shaping
If you're adding shaping, then you'll need to think about decreases and increases too. I won't go into detail here but essentially, if you know how many stitches you need at one end and how many at the other (for example if you were to work a sleeve which was narrower at the cuff than the shoulder) and you know how many rows you have to increase or decrease your stitch count then you can work out how many stitches you need add or remove on each row.
Step 7: Hook it up!
Now you know your stitch and row counts for each piece you need to make, you know what yarn and hook you're using, your stitch pattern and what direction you're working (because you wrote it all down) you can get hooking!
As your garment grows, you might decide you want to tweak here and there along the way, tangents can be part of the fun of design!
If I can offer one pice of advice here it would be not to make any adjustments for the first few rows. If you have made and measured your gauge swatch correctly then trust the numbers!
So many times, I have worked out my stitch count from my gauge, started working then panicked after 3 rows that it's too big, ripped back and restarted with fewer stitches only to find it's too small when worked up.
The first few rows will always be a bit bigger. Before you make any judgements, make sure you have worked a good 4 or 5 inches. If your measurements are still off then I would advise looking again, but only then!
Once you have made all your pieces, block them if needed. I tackle blocking in full in this post, but it is often an essential part of the process of garment making) and seam them all together.
Add your cuffs, hem and neckline. You might have changed your mind about the type of cuff / hem / collar you want by this point. It's fine to react to the design as it grows and you change your mind. You are the designer so you are in charge!!
Et Voila, you have a finished sweater!
There is a lot of information to take in here and I hope it has been a help rather than a cause of overwhelm!
I certainly don't want it to put anyone off, so just take it one step at a time and you will get there. If you have to frog it and start over (and sometimes you will) then at least you will have learned a way not to make a sweater! I could fill a book with ways not to make a sweater, so you won't be alone!
If you take one message away from this post let it be this:
Have a play, try something new and enjoy yourself!
(But also make the damn gauge swatch!)
Big Love
D x
P.S. Please be sure to let me know how you get on with your design efforts. If you enjoyed this post, you can share it with your friends using the share buttons.
If you're on on instagram, make sure you tag me @doraexplored and use the hashtag #MyCrochetWardrobe
If Facebook is more your thing, you can post on my page Dora Does or come and join the My Crochet WardrobeFacebook Group!