I loved making the Studio scoodie and have a bit of a thing for it's texture. I felt like I wasn't finished with that stitch pattern so I decided to add some colour work (I'm a sucker for a stripy scarf) and create a whole range! Today I bring you the free pattern for the Studio Stipe Scarf. Also in the range is the Studio Bun Hat Free Pattern or the downloadable set of 3 beanie patterns for the price of 1.
You can also purchase a PDF add free version of this pattern from Ravelry and Etsy

This post may contain affiliate links which means if you follow the link and go on to make purchase then I will receive a small commission at no extra cost to you.  These links are marked with (aff) and you can read my full affiliate disclosure here

You can use any yarn for this project and just adjust the hook size and number of stitches to achieve the size you want. For this range I chose The Women's Institute Soft and Smooth Aran (aff) yarn from Hobbycraft (aff) in teal and grey.
So without further chat from me, lets get prepared!
Before you start, you should know…
You can purchase an add free printable version of this pattern on Ravelry, or Etsy
Using US terms, The pattern is worked by alternating extended dc (edc) and hdc stitches (see below for stitch explanations) along the length of the scarf, turning at the end and repeating so that the hdc is worked into the top of the edc from the row below and the edc is worked into the top of the hdc.
If you want to make the scarf longer or shorter you can add or remove stitches but make sure you have an odd number.
I would recommend checking after row 2 that your alternation of stitches is correct. It's important this is right because it sets up the rest of the project. After this row you will be able to see from the stitch shape whether you should be working an hdc or edc.
Materials
5.5mm / I hook
Yarn: ~ 850 yds, 350g of Medium worsted weight yarn in two colours, referred to as A and B
In the item pictured I used about 300g / 700 yards of WI Soft and Smooth Aran (aff) yarn in grey (colour B) and about 50g / 150 yards in the teal (colour A)
Yarn needle & scissors
Finished size: about 70in x 9in
Standard Stitches & Abbreviations Used (US terms):
ch = chain
yo = yarn over
sc = single crochet
hdc = half double crochet
Special Stitches.
Foundation Single Crochet (fsc): You can find a written instructions and a tutorial for this stitch on my youtube channel here. If you struggle with this technique it can be replaced with making a chain of the number of stitches plus one, then sc in the 2nd chain from the hook and across to achieve the required number of stitches.
edc = extended double crochet: This is very similar to a double crochet but with a small extra step. Yo, insert hook, yo, pull up a loop (3 loops on hook), yo, pull through one loop (3 loops on hook), yo, pull through two loops (2 loops on hook), yo, pull through two loops.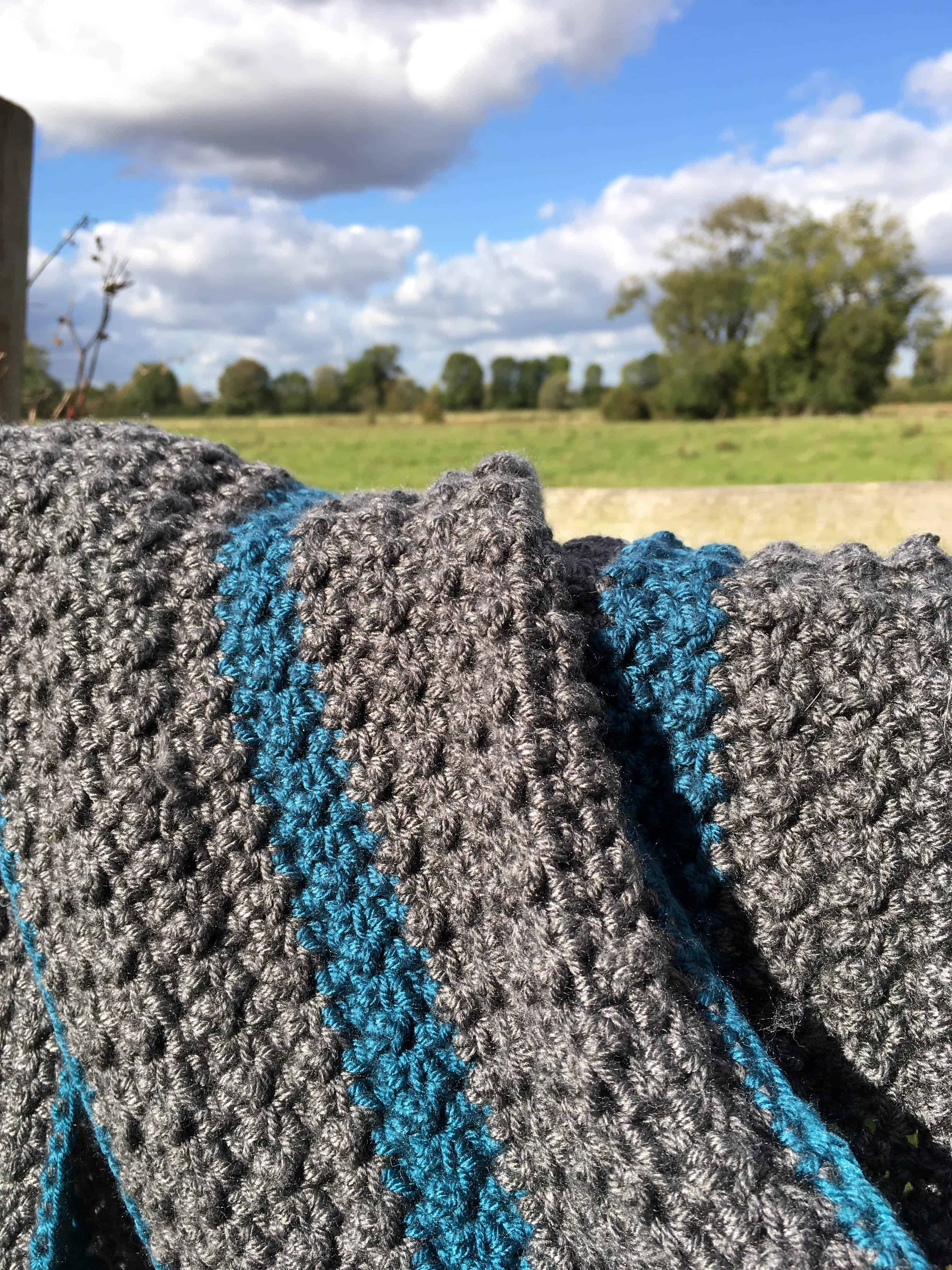 Okay, that should be everything. Let's get started!
The Pattern
In colour A
Row 1: fsc 201 (or ch 202 , sc in the second ch from hook and across to the end). Ch3. Turn (201st)
Change to colour B
Row 2: edc in first st, *hdc in next st, edc in next st*. Repeat * across to the end finishing on an edc (this is the stitch repeat which continues throughout the pattern. Ch2. Turn
Row 3: hdc in first st *edc in next st, hdc in next st*. Repeat * across to the end finishing on an hdc. Ch3. Turn
Row 4-10: Repeat rows 2 and 3
Change to colour A
Row 11-13 Continue to repeat rows 2 & 3
Change to colour B
Row 14-23: Continue to repeat rows 2 & 3
Change to A
Row 24-: Work one row of sc
Fasten off and sew in ends
I hope you enjoy this pattern, and as always, don't forget to tag me in your finished makes! Nothing makes me happier than seeing my designs brought to life by others. I love the colour choices and personal touches you add to the patterns!
On Instagram, you can use the hashtag #HookMeHappy or just tag @doradexplored. You can tweet me your pictures, or add your them to my Facebook page. And if socials aren't your thing, feel free to email me your efforts. It really does make my day! I'm also a huge fan of Pinterest so if you like my patterns I'd love it if you pin them, or visit my Pinterest page which showcases some wonderful inspirational crochet patterns – the talent out there blows my mind!
Until next time.
Happy Hooking
Dx
(C) DoraDoes 2018. You may sell what you make from my patterns, but please credit me as the designer. The pattern is for personal use only and may not be shared. My photos may be shared with credit.
This post may contain affiliate links (my full affiliate disclosure is here).