This fun colourful crochet project is made by making a number of crochet cords and joining them all together to form a chain.
You can find a full tutorial showing how to crochet the slip stitch cord here, but below is a summary, including a link to the video tutrial
How to crochet the quick slip stitch cord
Chain 3, join with slip stitch (ss) to the 3rd chain from hook
Work a ss through the single, top loop of each of the 3 chains.
Turning the cord as you go, work a sl st into the top (back) loop of each sl st and continue round and round and round until you achieve the length of chain you are looking for.
Mine each measure about 8in.
Fasten off, leaving a tail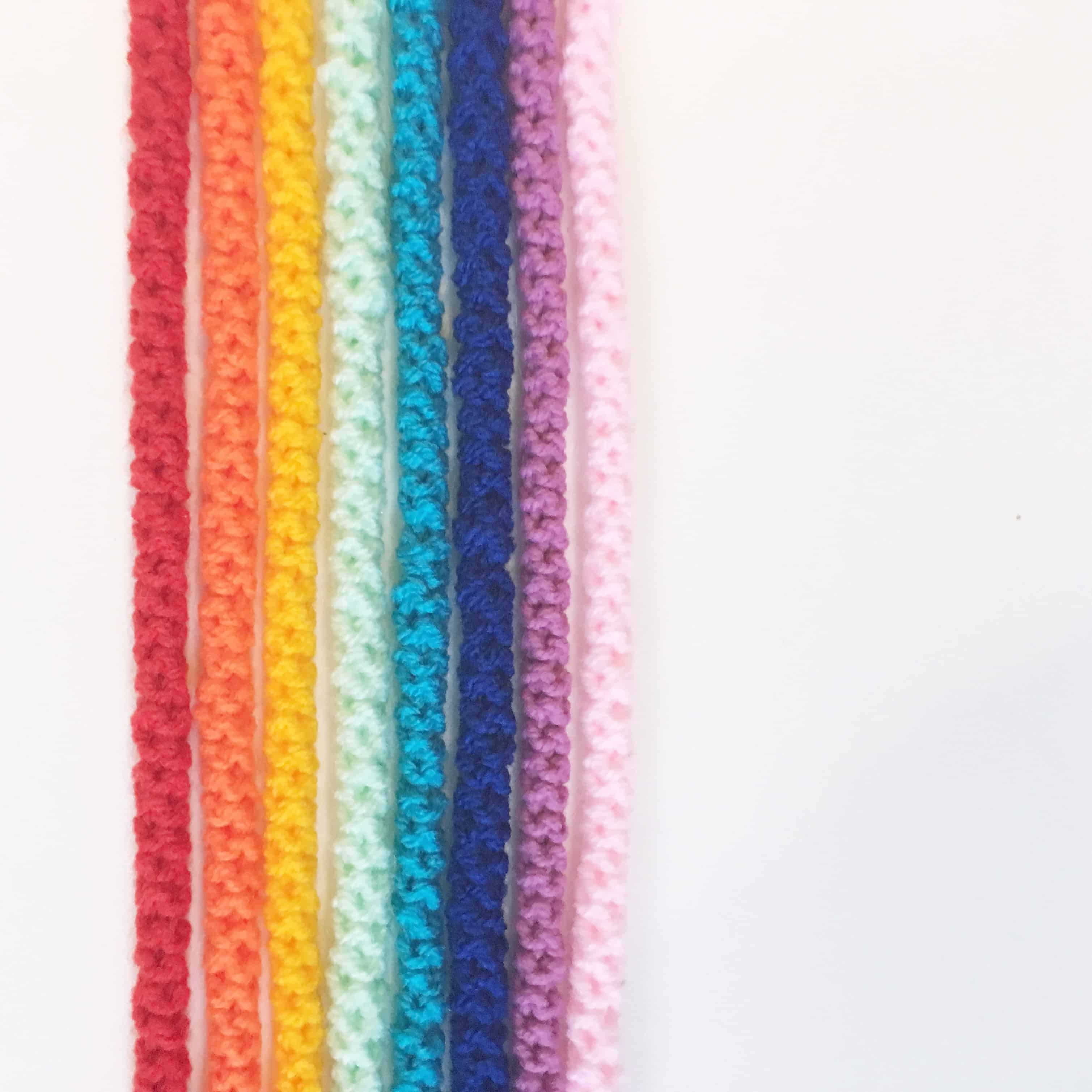 The video below demonstrates how to crochet the slip stitch cord.
You can also view a left handed version here
How to join the cords to make a chain
Take your first starting cord and sew the ends together using the tails to create the first link.
Take the next cord and loop it through the first, sewing the ends together to create the next link.
Add the rest of the cords to the previous link to make your chain. Make as many cords as you want and you can add more as you go to increase the length.
I hope you enjoy this colourful project, and as always, don't forget to tag me in your finished makes! Nothing makes me happier than seeing my designs brought to life by others. I love the colour choices and personal touches you add to the patterns!
On Instagram, you can use the hashtag #HookMeHappy or just tag @doradexplored. You can tweet me your pictures, or add your them to my Facebook page. And if socials aren't your thing, feel free to email me your efforts. It really does make my day! I'm also a huge fan of Pinterest so if you like my patterns I'd love it if you pin them, or visit my Pinterest page which showcases some wonderful inspirational crochet patterns – the talent out there blows my mind!
Until next time.
Happy chaining!
Dx
(C) DoraDoes 2018. You may sell what you make from my patterns, but please credit me as the designer. The pattern is for personal use only and may not be shared. My photos may be shared with credit.
This post may contain affiliate links (my full affiliate disclosure is here).